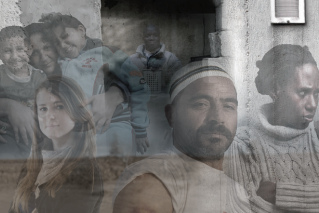 ACRI's 2012 Situation Report examines the current state of human rights in Israel and in the Occupied Palestinian Territories: house demolitions continue in Palestinian and Bedouin village; asylum seekers are persecuted relentlessly; the occupation of the West Bank and the regime of discrimination are bolstered by doublespeak and efforts to silence opposition; affordable housing is nowhere to be found and water has become a luxury; large social protests are restricted in the public sphere; the police and the judiciary are privatized, while the High Court of Justice becomes less accessible. The report also points to some positive trends, mostly in the area of health-care.
The annual "State of Human Rights Report" (download English version PDF) is published by the Association for Civil Rights in Israel (ACRI) to mark International Human Rights Day (December 10). In the report, ACRI reviews the current situation of human rights over the past year in Israel and in the Occupied Territories, warns against particularly severe violations of human rights, notes improvements, and points to the major trends in the field of human rights.
The 2012 report reveals the bleak situation in nearly every category of rights, particularly housing. In Arab towns and villages, the restrictive planning policies that limit residential building and prevent development continued, leaving many Arab citizens of Israel without viable housing options. Particularly discouraging are the government's policies vis-à-vis the Bedouin communities in the Negev desert. The government has still failed to recognize 35 villages – home to approximately 70,000 people – and provide them with basic services such as paved roads, running water or electricity, not to mention schools or health clinics. Instead, the government is advancing legislation to implement the Prawer Plan, which among other things would uproot more than 40,000 people from their homes. Even the recognized Bedouin villages are subject to continuing police harassment and demolition orders – in some cases, carried out violently.
Throughout the country, public housing – the issue that was at the heart of the social protest of summer 2011 – has seen no improvement. On the contrary: the government opposed the promotion of affordable housing legislation while continuing to systematically eviscerate the current pool of public housing units. Likewise, the fundamental right to water was significantly harmed when rates were allowed to rise sharply without any mechanism in place to protect people with limited means and elderly or disabled people.
In the West Bank, the right to shelter and water is even more tenuous. The Israeli military regularly issued and executed demolition orders for homes and humanitarian structures such as cisterns throughout Area C. These efforts, coupled with proposed legislation and the government-commissioned Levy Report (which claimed that the West Bank is not an occupied territory), indicate a creeping de facto annexation of Area C, in which Palestinian and Jewish residents are subject to two different legal systems.
Freedom of expression also suffered heavy blows this year on both sides of the Green Line.  Israel's two largest cities, Jerusalem and Tel Aviv, enacted new regulations that make it exceedingly difficult to initiate demonstrations and set up protest tents. Meanwhile, in the West Bank, the policies of banning all forms of protest outright and persecuting activist leaders continued against the backdrop of the continuing injustice of two separate legal systems for Jewish and Palestinian residents. Although the police declared its intention to protect freedom of expression and protest, the declaration was undermined by police behavior during numerous demonstrations and by its practice of illegally questioning protest organizers ahead of future demonstrations. Further undermining police efforts to safeguard freedom of expression was its failure to properly investigate incidents of violent dispersal of protests, harassment of activists, and complaints regarding excessive and unjustified police force against citizens. And in East Jerusalem, reports emerged of illegal practices concerning the investigations of accused minors, including after-hours arrests, detention of children under the age of 12, and interrogations of minors without a parent present.
ACRI's report also outlines a series of statements, legislative initiatives, and policies that infringed on the human rights of asylum seekers in Israel, the vast majority of whom cannot be deported because of a clear danger they would face in their countries of origin. Seizing on popular frustration at the lack of a coherent government policy, several senior officials incited the public with viscous lies and accusations about asylum seekers: that they are criminals, disease-ridden, a demographic threat, and a security risk. At a public rally, one member of Knesset referred to the migrants as a "cancer," following which a violent mob viciously attacked African refugees.
The report highlights a troubling trend of improper delegation of judicial and police authority to private hands, in a manner that could jeopardize human rights; the development of several government mechanisms dedicated to gathering and storing data about individual citizens, in a manner that violates the right to privacy; and the chilling message sent to human rights organizations filing petitions on fundamental public issues – by the High Court of Justice decision to levy litigation costs on public petitioners who lose their cases.
The report also include some good news: among other things, it details several steps taken by the government to improve the rights of disabled people, as well as Ministry of Health initiatives to promote the right to health and to decrease the discrepancies in health-care between different populations.
Complete Report:
Hebrew – pdf | Arabic – word | English – pdf