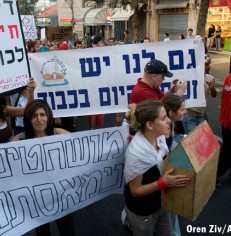 Social and Economic Rights
You have reached ACRI's archive, updated with our activity up until 2018. For more recent posts, please visit our current website here.
Social and economic rights encompass the range of rights including education, adequate housing, social security, and health; the right to work and labor rights; and the right to an adequate standard of living. The purpose of these rights is to ensure that the minimal conditions required to enable living with dignity are met for every person within Israeli society. The State of Israel has often denied its responsibility to ensure the social rights of its residents, through decreasing government aid and increasing privatization. As a result, basic rights are becoming a luxury that is available only to those who can afford it.
As a result, ACRI continues to challenge the State's choices, recently focusing on privatization measures. ACRI advocates for access to affordable housing, equal education opportunities, affordable healthcare, and employment security without discrimination. ACRI combines legal advocacy on behalf of those affected by existing laws and policies, and protests the creation of new policies that deny social or economic rights, or decrease the commitment of the state to its inhabitants.
Social and Economic Rights