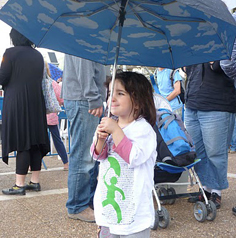 Child Rights
You have reached ACRI's archive, updated with our activity up until 2018. For more recent posts, please visit our current website here.
As the most disenfranchised group within any society, the rights of children require special protection as they are the most often and easily infringed upon. It is the responsibility of society at large together with legal and judicial authorities to protect those who cannot protect themselves, and this is especially true of children. Within Israel and the Occupied Territories, children become inadvertently involved in the racist and discriminatory policies of the State, and often become educated according to these social, religious, and racial norms.
Through legal and public advocacy ACRI seeks to protect the child's right to education, which must be equal for all residents. ACRI also defends children, particularly Palestinian children, against discriminatory legal procedures including extensive detentions and excessive use of force. In addition, ACRI promotes the rights of children of stateless individuals and asylum seekers. Finally, ACRI engages students through education and publications aimed at children and youths explaining their rights and introducing them to the human rights conversation.