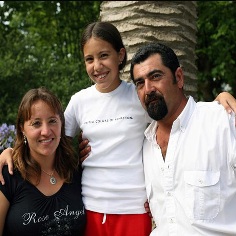 The Right to Family
You have reached ACRI's archive, updated with our activity up until 2018. For more recent posts, please visit our current website here.
For most people, the right to family seems obvious: the right to love, to share our lives with our loved ones, to marry, and to have children. However, many people in Israel do not enjoy the right to have a family life, among them partners who are not from the same religion, same-sex couples, immigrants from the former USSR, migrant workers, Arab citizens, and also Palestinians in the Occupied Territories.
ACRI believes that all people deserve the right to family, which is only made possible by addressing specific legal and economic issues that hinder the realization of this ideal. ACRI focuses on attempts to separate families of immigrants and asylum seekers through threat of deportation and legal discrimination, especially in the case of the "Citizenship Law," and on the underlying economic factors that force the separation of families in order to ensure economic security, particularly with regards to Arab workers from Gaza and The West Bank.
In the Knesset
March 13, 2018

Legal Representation of Parents and Children at the Juvenile Courts Proposed Law: … Read more…

October 5, 2010

4 July, 2010 Attn: MK David Azulay Chairman of the Knesset Interior and Environment Committee The Knesset Dear Sir, Re: … Read more…
Policy Advocacy
April 23, 2013

The Knesset has approved a further extension of the "temporary" order known as the 'Citizenship Law' (83 votes … Read more…
Knesset Roundup
March 13, 2018

Legal Representation of Parents and Children at the Juvenile Courts Proposed Law: … Read more…

July 5, 2015

To receive the Knesset Roundup directly to your email, click … Read more…

May 23, 2011

May 16 – May 24 2011 Recent Anti-Democratic Legislation May 16 | "Slavery Law" Passes Final Vote … Read more…