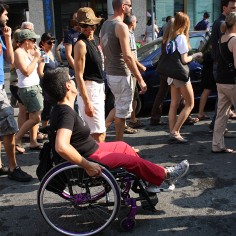 Disability Rights
You have reached ACRI's archive, updated with our activity up until 2018. For more recent posts, please visit our current website here.
People with disabilities – physical, mental, or cognitive – have the same civil rights as any other person. In addition, they are entitled to unique rights that stem from their basic rights to equality and to dignity. The purpose of these unique rights is to promote the welfare and advancement of people with disabilities, and to protect them from discrimination and abuse.
ACRI works, first and foremost, to ensure that the basic human rights of the mentally and physically disabled are respected, and safeguarded from discrimination. In addition, ACRI strives to ensure that adequate healthcare is an obligation of the state, for all people, and in particular for those with distinct treatment needs. ACRI also opposes the institutionalization of discrimination in the housing and employment sectors through legal measures. As a part of ACRI's broader education and public outreach programs, ACRI seeks to bring the issue of discrimination into the forefront, and to introduce human rights discourse into all sectors of Israeli society to ensure the equality of every person living within Israel and the Occupied Territories.
Legal Work
December 3, 2012

Petitioners claim there is no place for screening procedures in small communities, which lack unique characteristics that would justify such … Read more…

June 20, 2011

The High Court of Justice has issued an Order Nisi following two separate petitions filed against the Acceptance to Communities … Read more…
In the Knesset
July 2, 2012

The Coalition for Including Nursing Care in the Healthcare Basket: Pensioners of the Jerusalem Municipality • Independent Pensioners of Ashdod … Read more…

March 22, 2011

Two separate bills, two of the unfortunate "stars" of the recent slew of anti-democratic legislation that ACRI has been relentlessly … Read more…