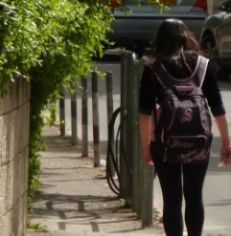 The Right to Education
You have reached ACRI's archive, updated with our activity up until 2018. For more recent posts, please visit our current website here.
Every child has the right to acquire basic education and to enhance their personal, intellectual, and social abilities that will enable him or her to be an independent person and to provide for his or her own needs. Israeli law requires all children aged 5 to 18 to go to school, and provides free public education to citizens. However, the realization of this right is unequal in relation to children from various sectors of society, especially the Arab population.
ACRI continues to protest legislation that is discriminatory with regards to quality of and access to education, particularly within East Jerusalem, the West Bank, and cities inside of Israel that maintain a large Arab population. ACRI also promotes access to education for disenfranchised members of the population, including prisoners. The right to education is a fundamental social right, one that, if ensured for all, lays the foundation for a healthy society. For this reason ACRI works to produce its own educational materials to support educators and to legally promote fair and equal access to education.
In the Knesset
December 11, 2011

Members of Knesset from the coalition and the opposition have joined forces to support a new Basic Law that seeks … Read more…

August 20, 2009

ACRI and partners present policy makers with detailed 'Principles for a Just and Worthy Budget', A new and innovative civil … Read more…

November 15, 2007

Religious Leaders Hinder Draft Legislation that would Protect Girls'' Freedom of Choice; Rights to Health, Development, and Education JERUSALEM – … Read more…
Policy Advocacy
January 23, 2014

In the wake of the widely publicized complaint and disciplinary actions undertaken against a high school teacher in Kiryat … Read more…
Knesset Roundup
July 19, 2015

To receive the Knesset Roundup directly to your email, click … Read more…