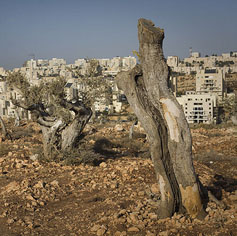 Impact of Settlements
You have reached ACRI's archive, updated with our activity up until 2018. For more recent posts, please visit our current website here.
Despite International Humanitarian Law prohibiting the unlimited construction of settlements within an Occupied Territory, construction only continues to increase, and in areas that are ever more controversial. The settlement enterprise has exploited the resources of the occupied area, including land and water, which are meant to serve the local inhabitants; it has restricted access to farmland, particularly plots located near settlements; it has imposed harsh constraints on freedom of movement within the West Bank; personal security has been undermined due to settler violence, which has not been addressed by the law enforcement authorities; and it has limited the development and construction of Palestinian towns and villages. Furthermore, the violation of Palestinian human rights perpetrated by Israeli settlement in the Occupied Territories is exacerbated by the institutionalized discrimination of Palestinians in the West Bank in favor of Israeli residents of the area.
ACRI seeks to protect the fundamental human rights of the Palestinian population in the Occupied Territories, particularly through public advocacy and protesting the continued justifications for settlement construction offered by Israeli leadership. ACRI refuses to accept the reallocation of land based on racial and religious excuses.
In the Knesset
June 5, 2012

Tomorrow (6 June 2012), two proposed bills are scheduled to be brought before the Knesset plenum for a preliminary reading, … Read more…

January 4, 2012

Tomorrow (Thursday, 5 January 2012) the Knesset's Constitution, Law, and Justice Committee is scheduled to hold an expedited discussion regarding … Read more…

August 12, 2009

Palestinian residents of the West Bank have been prohibited from driving on Route 443, a main thoroughfare for some 160,000 … Read more…
Media
June 24, 2009

High Court rule on Ni'ilin Sets Human Rights As Prime Consideration, July 2009 Demanding Suspension of IDF Commanders Virob and … Read more…