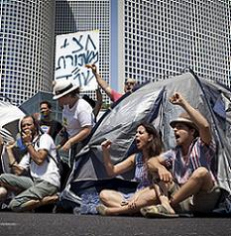 Tent Protest
You have reached ACRI's archive, updated with our activity up until 2018. For more recent posts, please visit our current website here.
What started as a few tents in the middle of a Tel Aviv boulevard expanded in the summer of 2011 into a country-wide grassroots movement for social and economic rights.
This page will keep you updated about ACRI's work around the tent protest, including policy advocacy on affordable housing and on social and economic rights, protecting the tent protesters rights to freedom of expression and freedom of protest, real-time consulting and distribution of materials at tent sites, and more.