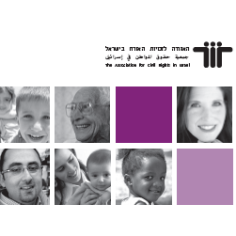 Racism and Discrimination
You have reached ACRI's archive, updated with our activity up until 2018. For more recent posts, please visit our current website here.
While the racial distinction between the Jewish Israeli population and the Arab Israeli and Palestinian populations continues to be the most pervasive within Israeli society, there remain a number of other disenfranchised communities for whom equality remains an ideal only in theory. This discrimination particularly affects the physically and mentally handicapped, the LGBT community, the poor and homeless, and women, specifically religious and Arab women, among others. With a large portion of those living within Israel and the Occupied Territories constantly feeling the effects of a culture of discrimination, it is a matter of the state to ensure that racism is no longer the undertone of political and social discourse.
ACRI defends the right to equality as it pertains to each individual within Israel and the Occupied Territories, without discrimination. To this end, ACRI seeks, particularly through focused education, to introduce human rights discourse into all aspects of Israeli life. ACRI opposes racist legislation through litigation, and promotes the empowerment of society to demand their equal rights through public advocacy and outreach.