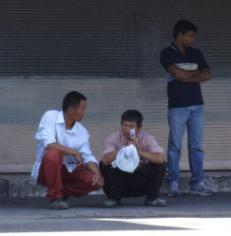 Migrant Workers
You have reached ACRI's archive, updated with our activity up until 2018. For more recent posts, please visit our current website here.
Migrant workers represent an extremely vulnerable population group within Israeli society, one whose rights are constantly trampled upon by both their employers and the state authorities. While the government works intensively to combat the issue of migrant workers residing illegally in Israel, it consistently fails to enforce the law against criminal employers who violate the basic rights of their migrant workers. In addition, the government views migrant workers as temporary residents who are only in Israel in order to work, and who must at all costs be kept from "taking root" in Israel. This approach results in draconian policies toward migrant workers that severely violate their right to family, among other basic rights.
ACRI's work with regards to Migrant Workers begins at the basic level of human dignity, highlighted by ACRI's active opposition to the Israel Entry Law commonly recognized to be a modern form of slavery, binding migrant workers to their employers. Laws like this one, including laws regarding access to citizenship afforded Palestinian spouses, and access to legal proceedings, both in terms of due process for the migrant worker, and in terms of the ability to bring a case before the court, serve only to dehumanize and disenfranchise migrant workers. This blatant violation of human rights is one that ACRI will continue to fight with legal advocacy and public awareness campaigns.