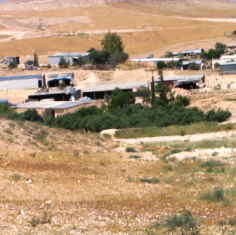 Negev Bedouins and Unrecognized Villages
You have reached ACRI's archive, updated with our activity up until 2018. For more recent posts, please visit our current website here.
The Arab Bedouin minority of the Negev is one of the most discriminated groups within the Arab population and within Israeli society as a whole. More than half of the approximately 160,000 Negev Bedouins reside in unrecognized villages, which the state refuses to provide with a planning structure and place under municipal jurisdiction. The government uses a variety of measures to pressure Bedouins into relocating to government-planned urban centers that disregard their lifestyle and needs. Whole communities have been issued demolition orders; others are forced to continue living in unrecognized villages that are denied basic services and infrastructure, such as electricity and running water.
ACRI seeks to protect the rights of the Negev Bedouin by promoting village recognition as a means of eradicating the constant threat of demolition and relocation, while beginning to improve living conditions and access to state resources. Additionally, ACRI opposes current and new settlement construction on land inhabited by residents of unrecognized villages.