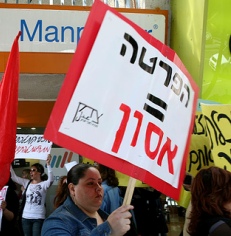 Privatization
You have reached ACRI's archive, updated with our activity up until 2018. For more recent posts, please visit our current website here.
In the past two decades, privatization has been a growing trend in the Israeli market. In recent years, the pace of privatization in Israel has accelerated, and privatization has infiltrated the spheres of social services and law enforcement. The government's drastic cuts in social services have created a situation in which services that were once provided by the state to all citizens are now provided by private bodies. As a result, the gap between the rich and poor is widening, and marginalized groups are confronting glaring disparities in their access to basic rights and services.
ACRI works to ensure that human rights considerations are incorporated into privatization processes to reduce the resulting violations of human rights. ACRI focuses specifically on issues including privatization of medical services, private water companies and their authority to disconnect families from the water supply, privatization of legal counsel, and mandatory arbitration. ACRI works through the legal system and through public advocacy to ensure that human rights remain in the privatization discourse.