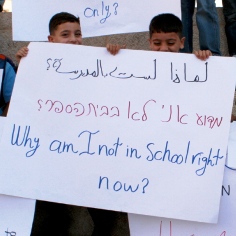 Right to Education
You have reached ACRI's archive, updated with our activity up until 2018. For more recent posts, please visit our current website here.
Within the Jerusalem district, 84% of Palestinian children live below the poverty line, and thousands of children are considered to be "at-risk." With a shortage of classrooms and striking discrepancies in resources allotted to Palestinian versus Jewish Israeli citizens, many of these children lack access to adequate education, including 24,000 children who remain unrecognized by the Jerusalem Education Administration. Drop-out rates are high among the Palestinian students, and for those that graduate, acceptance into Israeli universities is incredibly challenging.
The current educational inequalities, particularly in East Jerusalem, not only reflect social and economic inequality, but highlight the overall issue of discrimination within Israel. ACRI, understanding that education can be a catalyst for social change, continues to promote equality in education. Through the courts, as well as through human rights education, ACRI seeks to emphasize the importance of educational resources and to promote the inclusion of all residents in the consideration of the Jerusalem Education Administration.
Media
March 7, 2011

While much of the attention Jerusalem receives at home and abroad is centered on political affairs and predicaments, the extent … Read more…

May 22, 2009

Listening to all the pompous rhetoric about Jerusalem, one might be convinced to believe that this is a city inhabited … Read more…
Public Outreach
September 4, 2008

Mock Classroom at Jerusalem City Hall to Protest Neglect of East Jerusalem's Children JERUSALEM – September 4, 2008 – To … Read more…
Policy Advocacy
December 4, 2014

In February 2011, the High Court of Justice ruled in a petition filed by ACRI that the state had violated … Read more…

September 2, 2013

 New Report by ACRI and Ir Amim Reveals:   2,200 Classrooms Still Missing in East Jerusalem: Only 150 … Read more…
Knesset Roundup
February 18, 2014

To receive the Knesset Roundup directly to your email, click here. … Read more…