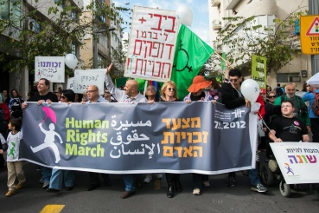 Human Rights March 2012, photo by Yotam Ronen
People from all over Israel came together in Tel Aviv on Friday (7 December 2012) for the fourth annual Human Rights March. Some 5,000 people and dozens of organizations and groups marched through the streets of the city for a variety of causes, including workers' rights, women's rights, Arab minority rights, LGBT rights, housing rights, the rights of Palestinians in the Occupied Territories, the right to health and education, refugee rights, and more.

The march wound its way through some of the Tel Aviv's main arteries and ended with a festive concert celebrating human rights. ACRI President, author Sami Michael, delivered a speech about the continuing struggle against the oppression of women: "A society that degrades women, harms their status, and excludes them from the public sphere is a backwards society, sick and unenlightened, which will never truly flourish – neither materially nor spiritually," Michael warned. "A just and robust society cannot exist between an abuser and an abused, the occupier and the occupied, a master and a slave. Equality for men and women is the greatest hope we have for a decent future to all humanity" (to read the full speech, click here).

The Human Rights March is organized annually by the Association for Civil Rights in Israel (ACRI) to mark International Human Rights Day. The Human Rights Concert following the march included performances by Shlomi Saranga and Boom Pam, who got the crowd dancing with their infectious infusion of Greek and Balkan music, Ester Radda, Neta Elkayam, Noam Rotem, Bilaka, and Miriam Tukan.

Hagai El-Ad, ACRI's Executive Director, said: "The thousands who marched came here to declare that today, more than ever, we are aware of our rights and the rights of others, and we are not prepared to give them up. We will continue to fight to make this place better for everyone."

To see some of the beautiful images of the day, check out this online photo gallery (photos by Yotam Ronen from Activestills). We're already looking forward to next year's march!