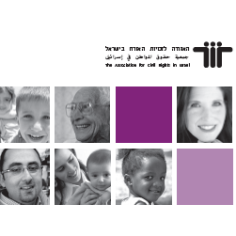 Human Rights Education Programs
You have reached ACRI's archive, updated with our activity up until 2018. For more recent posts, please visit our current website here.
ACRI conducts human rights training programs for thousands of individuals across the country each year, produces high-quality educational curricula in Hebrew and Arabic, and organizes conferences and lectures on human rights education. In addition, ACRI provides a Human Rights Education portal and continues to develop comprehensive educational kits in order to aid the introduction of human rights discourse into the classroom.
We believe working with key agents of change – teachers in the Jewish and Arab school systems, students, security forces personnel, and social and community workers – is an effective method to influence attitudes and contribute toward building a more tolerant and just society. Through awareness of injustice and promotion of fundamental human rights, ACRI hopes to inspire meaningful social change.
Publications
March 21, 2012

March 21 is the International Day for the Elimination of Racial Discrimination. On this day in 1960, police opened fire … Read more…

August 20, 2009

Though the days of the large street demonstrations commemorating May 1 are long gone, ACRI's Education Department took the opportunity … Read more…

April 7, 2009

Presenting ACRI's legal, educational and public outreach work, the Annual Report brings personal stories and highlights the orgnization's activities To … Read more…
Media
November 29, 2017

Education Minister Naftali Bennett has canceled the workers' rights event after complaints by parents who have lost children to terror … Read more…