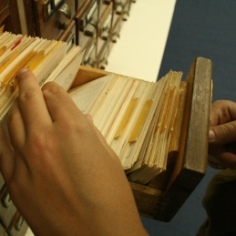 Freedom of Information
You have reached ACRI's archive, updated with our activity up until 2018. For more recent posts, please visit our current website here.
The disclosure of public information is critical to facilitating democratic discourse and informed participation regarding issues on the public agenda. Freedom of information therefore plays a fundamental role in guaranteeing a fair and open democracy, and the withholding of information by the authorities is a clear threat to the democratic process.
ACRI has and continues to work to increase transparency and promote freedom of information in a variety of contexts, including interventions with government ministries demanding the publication of procedures, decisions, and other information that is relevant to the public, and protesting overly restrictive privacy laws. ACRI was one of the initiators of the Freedom of Information Law, enacted in 1998, according to which, every citizen has the right to receive information from state authorities, both on matters that pertain to him or her personally and on matters that are of public interest. ACRI also publishes and disseminates reports containing relevant information in order to promote public awareness.
In the Knesset
August 20, 2009

At present, during admission to a psychiatric ward patients are asked to sign a consent waiver, which states that a … Read more…
Publications
April 7, 2009

Presenting ACRI's legal, educational and public outreach work, the Annual Report brings personal stories and highlights the orgnization's activities To … Read more…

December 7, 2008

ACRI Gauges Israel's Realization of the Universal Declaration of Human Rights on 60th Anniversary of its Adoption The full version … Read more…
Media
July 1, 2010

An op-ed published in the Jerusalem Post by ACRI Attorney Lila Margalit Each time a new security affair is exposed … Read more…

April 11, 2010

An op-ed by ACRI Attorney Lila Margalit, published on Ynet The following op-ed was published on the Ynet news site … Read more…
Policy Advocacy
April 18, 2014

The ability to arrest someone, interrogate him and prevent him from meeting with an attorney – all under the … Read more…

July 13, 2013

The Association for Civil Rights in Israel (ACRI) sent an urgent letter to Attorney General Yehuda Weinstein demanding his immediate … Read more…