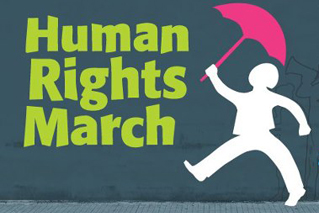 On Friday, 7 December 2012, we will march together in the annual Human Rights March – with all the causes, messages, and flags; for equality, democracy, and social justice; the more consensual as well as the marginalized; all the voices coming together.

The Human Rights March is the annual assembly of thousands of people and more than 130 organizations and groups that work year-round to promote human rights, social change, equality, and democracy. The march is the place to sound all the different voices that connect for a day to form a joint and brave statement: all human rights, to all human beings, in Israel and in the Occupied Territories.

The March marks International Human Rights Day, which is observed every year on 10 December, the day in which the United Nations General Assembly adopted the Universal Declaration of Human Rights in 1948. For photos from last year's March, click here.

This year's Human Rights March will take place on Friday, December 7, 2012 in Tel Aviv.
Meeting point at HaBima Square in Tel Aviv at 10:30 a.m.
Special human rights concert at Rabin Square at 12:30 p.m.
Buses will be available from across Israel, click here to sign up for a bus.
Join the Facebook event: http://www.facebook.com/events/460592143979692/

The song selected as the official Human Rights Day song in Israel is the song "Being Human" (Lihiyot Adam), which was written by Avihu Medina and made famous by singer Zohar Argov. A special cover version of this song, performed by Neta Elkayam and titled Being a Woman, Being Human (Lihiyot Isha, Lihiyot Adam) will be performed during the concert.

Below is a video of this song prepared for the March, with the participation of many of the human faces behind the struggles in which we all participate year-round: to promote workers' rights, to eliminate racism, to protect the environment, to promote equality for people with disabilities, or for the simple, most basic right, to live without fear. This beautiful song is in Hebrew and Arabic, but watch it – its language is international.



This year, anyone joining the march can choose the cause they are marching for and invite others to march for the cause that's important to you. Just choose your cause on the march website – join it, share it, connect.

The Human Rights March, organized by the Association for Civil Rights in Israel (ACRI), is the flagship event of the human rights and social change community in Israel. Hundreds of organizations, communities, and activists – all come together to say: it's our right, to all human rights, for every human being!