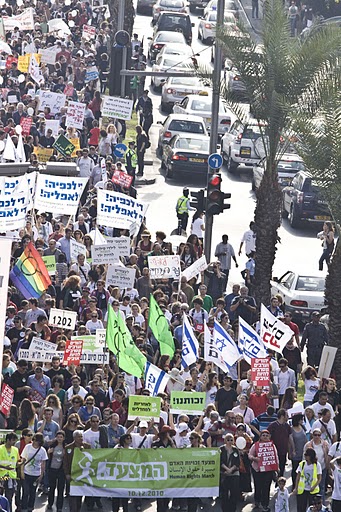 In a show of force of Israel's human rights community, ten thousand people gathered on December 10, 2010 in Tel Aviv for Human Rights March, calling on the Israeli authorities to protect all those living under its authority and promote justice and equality, and protesting against the rising tides of racism.
Bringing together demonstrators from across the country, both Jews and Arabs, as well as approximately one thousand refugees and migrant workers, mostly from Sudan, Eritrea, and other African countries, the march processed along Ibn Gavirol St. and concluded with a closing rally in Rabin Square.
Standing side-by-side in a unique moment of solidarity, demonstrators carried signs saying: "Democracy: The Slippery Slope is Already Here", "Jews and Arabs Refuse to be Enemies", "Climate Change is Here – Let's Stop It", "We are All Refugees", "Love Thy Neighbor – Putting a Stop to Racism", "When a Woman Says No She Means No", "It is my Right to be Different", "100% Democracy to 100% of the Citizens".
Marking International Human Rights Day, Israel's second Human Rights March, organized by The Association for Civil Rights in Israel, brought together 130 organizations from a broad spectrum of fields: Workers' rights, empowerment of women, the environment, against the Occupation, for equal citizenry, LGBT community, animal rights, social justice, migrant workers rights, and more. Following the tradition of the great civil liberties marches in Washington and elsewhere, the march is the only event ever to take place in Israel, in which all these groups and individuals march together, each carrying a unique message but all united by the call: Human Rights is Everyone's Rights.
During the past year, democracy and human rights in Israel have suffered severe blows – but were met with a resilient civil society determined to counter the worrying tides. Just this past week, a letter signed by prominent rabbis called on Jews not to rent out or sell apartments to Arabs, and was met with wide condemnation, including by many of the organizations and individuals participating in the march.
Below are excerpts of some of the speeches made during the closing rally in Rabin Square:
Renowned author Sami Michael, President of ACRI and a resident of Haifa, spoke of the devastating fire that raged in the Carmel last week:
"We look at what once were evergreen forests, and now are barren terrace, and greave. We don't know yet whether the disaster was caused accidently or maliciously, but we do know that the heads of State failed in carrying out their duty to safeguard lives, livelihood, and wildlife.
"The majority of the Israeli public believes that human rights are sacred. We have gathered here today to voice our call for the rights of all humans; to cry out against the curse of racism; to combat the socioeconomic gaps, violence against women, violence in our public discourse, and any other form of violence.
"And to the Palestinian people I say: Ours is a shared fait. We shell die together or live together. We have gathered here now to declare: We have chosen life".
Prof. Naomi Chazan, Chairperson of the New Israel Fund in Israel and former member of Knesset, said:
"In the face of so many who choose the path of hatred, incitement, and violence, the heroes of Israel's civil society stand out by choosing not to give up on the vision of a better Israel. They are the ones who give us the strength to continue the battle, and remind us that when we see discrimination and injustice the most important thing is not to stand idle but rather to call out and ensure our voices are heard. We will not stop until Israel is a true democracy, which respects the 'other' and cares for all those who are weakened".
Amel A-Sana Al-Hajuj co-director of Ajik – The Negev Institute, a long-time activist for the rights of the Bedouin in Israel, stated:
"The rabbis who signed the letter want to separate us. But we are here, and jointly we declare: We are together, we want a shared future. The march is a celebration of our victory, it is our answer to racism and to all the challenges we are forced to face daily".
Four letters were written specially for the march by individuals who this past year dared to demand human rights and justice for themselves and others:
Eli Zvieli from Safed rented out his home to Arab students and did not succumb to pressures and intimidation, including by Safed's Chief Rabbi: "I am 89-years old, I've survived the Holocaust and captivity. I've been through a lot but I feel strong, I feel great. I believed then as I still believe today, that I must safeguard my rights, that all people should safeguard their rights".
Abdallah Abu Rahma from Bili'in in the West Bank, a leader of the non-violent popular struggle against the Separation Barrier, sent a letter from his prison cell: "In the face of oppression and injustice, we have chosen a message of hope and true partnership between Israelis and Palestinians. We will continue fighting for a just future. This is the message I wish to bring to you today, carried across fences and walls and laws that separate us from one another".
Mary Vansovski, chairperson of the cleaners' Workers Union a Ben Gurion University, shared the humiliation workers suffer daily as employees and human being: "Being a contract worker makes people think of you as inferior, as someone who doesn't belong here. We have made much progress since the first elections of the Workers Union, and our work is still cut out for us – but the sky is the limit!"
T.A.W from Eretria, who entered Israel through the Sinai desert and is today held at the Saharonim detention center: "When I arrived in Sudan I was kidnapped by strangers. They held me hostage for five months, during which I was raped and forced to prepare meals for my kidnappers and clean after them. Eventually I was released and sent with a group of refugees to cross the border to Israel".