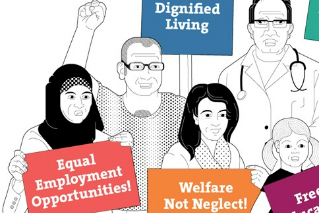 In the past two months, hundreds of people took part in ACRI's "Writing on The Wall" campaign and hung thousands of posters across Israel. The posters included data on social rights in Israel, demonstrating how the policies of consecutive governments have widened social gaps and eroded the people's right to a dignified life. Independently and at the same time, the "tent protest" spread throughout Israel – amplifying our message with its demand for social justice. All of a sudden, social rights became the issue that everybody was talking about – and ACRI was there to provide the accurate data.

In the media, on the street, in the office, on the bus – everyone is now talking about housing, health, education, and welfare. People are realizing that without a more just distribution of resources, without the minimum of dignified living for all residents of Israel, without promoting social justice – there cannot be a just, healthy, and tolerant society. The conclusion is now clear: without social rights and without equality, there can be no democracy.

Now, after they made their appearance all across Israel, from Kibbutz Maayan Baruch in the north all the way down to Kibbutz Ketura in the south (see map below), we are proud to share the campaign posters with you; the posters appear in the original Hebrew, with English translation at the bottom of each poster. Please feel free to share them. Our thanks to ACRI's Project Democracy team for making this happen, to designer Roni Levit for the beautiful illustrations and design, and most of all to the hundreds of people who took part in this campaign. As the campaign team wrote in their closing words: "In our cynical and televised age, it cannot be taken for granted that so many women and men will get out of the house and take action for democracy – for our democracy. So thank you!"


From north to south, all across Israel,
here's the map
of all the places where people hung our posters.