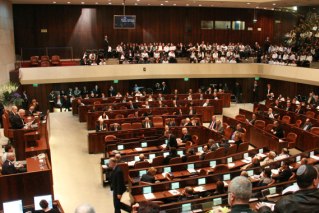 The Knesset plenum, photo by Itzik Edri
Two contradictory main trends are likely to be at the center of the Knesset's winter session, which opened yesterday: the potential continuation of anti-democratic legislation, which prevailed in the previous Knesset session, and a new, positive trend of legislation promoting social and economic rights, in the spirit of the "tent protest" that swept Israel during the summer.


As before, the Association for Civil Rights in Israel (ACRI) will continue to update on Knesset developments with implications on human rights, social justice, and democracy. If you are not yet subscribed to ACRI's bi-weekly Knesset Roundup, you can sign up in one simple step, by clicking on the button below: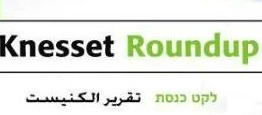 Anti-Democratic Legislation: The slew of anti-democratic bills, which have been promoted in the Knesset's previous sessions, may continue with new bills being tabled and older ones being promoted (to view ACRI's summary of anti-democratic bills promoted in the Knesset's last session, click here).

One particular bill worth noting in this respect is the Draft Basic Law: Israel – the Nation-State of the Jewish People, tabled in August by MK Avi Dichter (Kadima) and signed by 40 Knesset members. This bill seeks to define Israel as "the national home of the Jewish people" – and uniquely of the Jewish people – legally subordinating the state's democratic character to its Jewish one as defined in this proposed bill. The bill further stipulates that Arabic will no longer be an official language of the state (rather a "special status" language), that Hebrew Law shall serve as a source of inspiration for the legislator, and enables the establishment of separate communal settlements for members of one religion or nationality, thereby cleansing, and even makes a statutory norm of, existing practices of racial discrimination in housing.

In a rare move, the Knesset's Legal Adviser, Eyal Yinon, has called last week for a broad public and parliamentary debate on this bill and stated: "I believe that it is impossible to exaggerate the importance of this proposal, due to its implications on and significance for Israeli constitutional law […] No longer a horizontal balance between the two parts of the formula [Jewish and democratic], but rather the creation of a vertical balance, so that after the law is passed, at the top of the constitutional ladder will be the principle of the State of Israel as the nation-state of the Jewish people, and only under it will be the principle of the democratic state; and even then, it will be in a 'slim' formula that states 'the State of Israel has a democratic regime,' as opposed to 'the State of Israel is a democratic state.'"

To download an English translation of the current version of this proposed bill, click here.
To download ACRI's position paper regarding this bill, sent today to the Prime Minister and the government ministers, click here.

Legislation Promoting Social and Economic Rights: The "tent protest" that swept through Israel during the summer brought with it a real opportunity for changing Israel's socio-economic policy and priorities. ACRI has been relentlessly working for many years to promote a policy that will ensure social and economic rights for all residents of Israel, and it is our hope that the winds of social change will help to promote these issues in the current Knesset.

Yesterday (30 October 2011), ACRI has presented Members of Knesset with a list of 19 proposed bills to promote social justice – in the areas of employment, health, housing, water, and privatization.

First and foremost is the Proposed Basic Law: Social Rights, which seeks to enshrine the social rights of Israeli citizens in their appropriate, constitutional status. Other bills on the list include, for example: reinforcing the Employment Service, stopping the new Welfare-to-Work "Wisconsin Plan," preventing the raising of women's retirement age, reducing gaps in healthcare, including elderly dental care in the health services basket, stopping the privatization of student healthcare, access to affordable housing, regulating the rent market, changing the policy regarding homeless persons, reducing water tariffs, and setting restrictions on privatization processes.

In the letter to Members of Knesset, Attorney Debbie Gild-Hayo, ACRI's Director of Policy Advocacy, wrote: "Our hope is that Knesset members have recognized this historical opportunity and that the coming session, as opposed to what took place in the Knesset in the past two years, will be dedicated to social rights legislation and to promoting public interests."