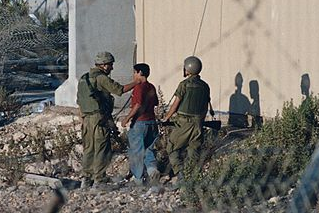 Ahead of the upcoming first military court hearing after the decision in the trial within a trial in the case of 'Minor A.' this Wednesday (22 February 2012) and next hearing in protest leader Bassem Tamimi's case today (19 February 2012) from the West Bank village of Nabi Saleh – based in part on the testimony of A., ACRI has prepared a case brief to highlight central issues. The law prohibits us from publishing the name of Minor A. since he is a 15-year-old minor.
Click here to download a PDF of the case briefer
The case of A. illustrates some of the rights violations of Palestinian minors who live in the West Bank, both at the level of military law and improper practices in the field. The many irregularities in detention and interrogation of minors are not just unconscionable from a moral perspective, they are also a patent violation of international human rights law, which explicitly calls for special consideration of minors at every stage of a criminal proceeding, based on the principle of the best interests of the child, and the designation of rules and mechanisms for the proper protection of the rights of children in a criminal proceeding, which mandate inter alia the presence of parents during the interrogation of minors, documentation of the interrogation, and conditions and restrictions on the procedures for the arrest, detention, interrogation, and trial of minors.