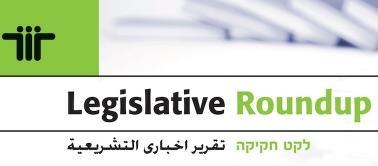 Legal Representation of Parents and Children at the Juvenile Courts
Proposed Law: Appointment of Legal Representation for a Minor (Legislative Amendments), 5778-2017
Joint Committee of the Special Committee for the Rights of the Child and the Constitution, Law, and Justice Committee to Discuss the Proposed Law: Appointment of Legal Representation for a Minor (Legislative Amendments, 5778-2017) | Monday, 12 March 2018, 10:00 a.m. | Preparation for First Reading
ACRI's position: Following our demand, the government is promoting a bill to provide legal representation for parents and children at the juvenile courts. ACRI was the first and only organization to address this issue, since the lack of representation sometimes causes serious damage to the rights of children and parents. The statistics show that the vast majority of parents are not represented at any stage of the legal proceedings, despite the fact that these courts take fateful decisions, and despite the fact that the families involved are among the poorest, most disadvantaged, and most weakened in Israel. We welcome the fact the Legal Aid system has joined the initiative and the proposed law tabled by MK Shuli Mualem of the Jewish Home party.
ACRI has been working for several years to defend human rights in proceedings concerning youth at risk and the removal of children from the home (external placement). In addition to demanding representation for parents at the juvenile courts, we also petitioned the Supreme Court to demand the legislative arrangement of the work of the committees that decide on the handling of children in these proceedings and to ensure that the rights of parents and children are protected in a due process before the committees.
Gaps in Health Services between the Center and the Periphery
Cutting Waiting Times in Consultative Medicine
Labor, Welfare, and Health Committee – Subcommittee for Health Services in the South| Wednesday, 14 March 2018, 9:30 a.m. | Discussion 
ACRI's position (together with partner organizations): The gaps in health services between the center and the periphery are manifested in numerous ways, including the complete absence of service, local shortages of services, and long waiting times in specialist medicine in the north and south of the country. In light of these gaps, special committees have been established in an attempt to improve the health of residents of these areas. The Committee to Examine the Expansion of Health Services in the South ("Afek Committee") submitted its recommendations in August 2014, while the Committee to Examine the Expansion of Health Services in the North ("Grotto Committee") submitted its recommendations at the beginning of September 2016. However, the committees' recommendations have not been budgeted or implemented. The subject of health was not included or budgeted in the National Plan for the North for 2017-2018. It is unacceptable that the conclusions and recommendations of special committees, established as noted in an attempt to improve the health of residents of peripheral areas, are shelved and ignored while the residents pay a heavy price.
---