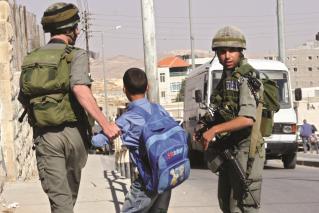 The Ramifications of Israel's New Strict Policy toward Minors Suspected of Involvement in Stone Throwing, Security Offenses, and Disturbances 
A series of legislative changes and guidelines indicate that the central – and perhaps even the sole – consideration that authorities take into account when dealing with minors involved in these incidents is deterrence, and not their rehabilitation and return to normative conduct.
This alarming trend is contrary to the principles of the Convention on the Rights of the Child and erodes the provisions and principles of the Youth Law. Moreover it is doubtful whether this strict policy will achieve its underlying deterrent purpose.
A new report – Arrested-Childhood – written in February 2016 by Attorney Nisreen Alyan and Meytal Russo reviews the policy and legislative changes that have been introduced in this area since 2014.
To read the report in Hebrew please click here. To read the summary in Arabic, please click here.