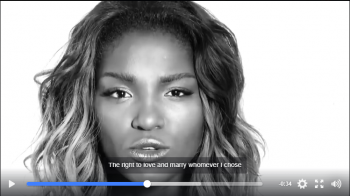 The High Court of Justice (HCJ) today accepted the petition submitted by the Association for Civil Rights in Israel (ACRI) against the Second Television and Radio Authority ("Second Authority") concerning the disqualification of three sentences in a public service announcement produced by ACRI for screening on Channel Two and Channel Ten. The HCJ accepted ACRI's argument that the message of promoting human rights cannot be considered controversial in a democratic country, and agreed that the Second Authority should not disqualify sentences such as "The right to speak Arabic without being afraid" and "The right to love, even if I'm gay." However, the HCJ did not strike out the disqualification of the word "marriage" referring to same-sex marriage.
The PSA, produced ahead of International Human Rights Day, which is marked annually on December 10, features celebrities talking about rights that are important to them. Among others, Mira Awad appears saying that it is important to her to be able to speak Arabic without being afraid, while Adir Steiner declares that he has the right to love and to get married, even if he is gay. The PSA was broadcast on Channel Two, but the Second Authority subsequently decided that it includes controversial subjects, something that is prohibited under its own rules. The Second Authority ordered that the PSA not be broadcast until the disqualified sentences were removed.
The petition noted that over a decade ago, the HCJ instructed the Interior Ministry to register a same-sex couple who married abroad as married; this is a familiar and recognized right in Israel. Similarly, Arabic is an official language in the State of Israel and pubic authorities are required to use it. Accordingly, it is not possible that such issues, having been recognized by the state, are "controversial" as claimed by the Second Authority.
Another sentence that was disqualified was "No dignity. No liberty. No equality." However, the disqualification decision ignored the fact that this sentence was followed immediately by the explanation "when human rights are not protected." It is difficult to imagine that anyone would disagree that when human rights are not protected, there can be no dignity, liberty or equality.
Over its 45 years, ACRI has petitioned the HCJ many times in order to defend the rights of others. This is the first time, however, that ACRI has been forced to turn to the Court in order to prevent the violation of its own rights and its freedom of expression.
Attorney Dan Yakir, ACRI's Legal Advisor, comments: "By accepting ACRI's petition, the HCJ has not only defended ACRI's freedom of expression to present its position on television, but it has also defended the public's right to be exposed to the message of human rights for all humans – including the right to speak Arabic and the right of same-sex couples to recognition. As Justice Baron noted, we cannot accept the position that 'a PSA that promotes human rights will constitute a controversial social and political message; recognition of and commitment to human rights are inherently related to the very existence of a democratic society; this is certainly the case in the reality in which we live." Human rights are part of the foundation of democracy, and accordingly the Second Authority's decision to disqualify this content was particularly grave. It is regrettable that the HCJ approved the disqualification of the word "marriage." The right of same-sex couples to marry is a basic right. The PSA did not discuss how this right should be implemented in Israel, and accordingly there was no cause to disqualify it."