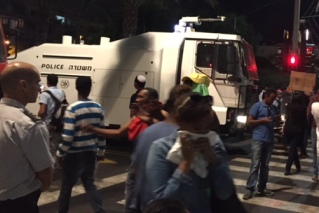 Water cannons in Tel Aviv 3 May 2015. Photography: Tamar Feldman
Riot control measures must be utilized by the police in a strictly measured manner, and in accordance with the severity of the disturbance to public order.
The Association for Civil Rights in Israel (ACRI) has expressed criticism of the excessive violence exhibited by the police forces during the recent demonstrations by the Ethiopian community. The use of crowd dispersion tools by police is not prohibited, but must be employed in a measured manner, according to regulations, and in correlation to the severity of the disturbance to public order.
The procedures of Israel Police set out three basic principles that are to be considered when using riot control equipment and tools:
A) Prior Warning: Before using any crowd dispersal equipment, protesters must be given advance warning about the intention of the police to resort to these measures. Warnings must be provided using an appropriate public address system, and protesters must be given sufficient time to leave the scene.
B) Escalation of Measures: One of the fundamental principles of dispersing crowds and utilizing riot control tools is to employ a policy of gradual escalation. The choice of what tools to employ should depend on the severity of the risk to public order and peace. Light methods should be employed before resorting to heavy handed practices, and these should only be used if lighter methods have been ineffective.
The following list of escalating measures is used by police in considering the means at its disposal:
Batons
Horses & Cavalry
Spraying Vehicles (Water cannons and skunk spray)
Stun Grenades
Tear Gas
Horse Attacks – Mounted assaults using stun grenades and tear gas
Sponge-tipped bullets
Rubber-coated metal bullets (Forbidden for use inside Israel)
C) Proportionality: The use of force shall not exceed the extent required for the purpose of achieving set objectives.
According to reports and to photographic evidence collected from the recent demonstrations, it is evident that the police did not act according to its own procedures, and that it did not use the measures at its disposal in a proportionate and reasonable manner. The police acted contrary to its regulations when it failed to warn protesters prior to using crowd dispersal measures, and their use did not escalate gradually.  It appears from all reports that the transition of police forces from showing restraint to engaging in violent and aggressive behavior came as a surprise to protesters and was carried out without any prior warning. It is highly doubtful whether the use of "mounted horse attacks" was necessary – particularly as it came when the crowds had calmed down.