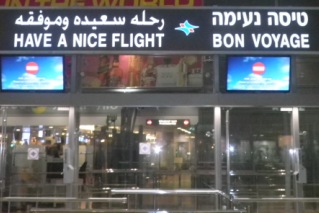 Photo by Tal Dahan
Following eight years worth of legal petitions and arguments, the High Court of Justice handed down a judgment on March 11, 2015, asserting that the changes made to the airport screening process introduced as a result of the legal petition has made a ruling on the matter inappropriate. Thus the court annulled the petition without giving a ruling on the principle of the matter surrounding a systematic distinction between Jewish and Arabic citizens in the screening process. In view of the drastic policy changes that were influenced by the petition, the court ordered the respondents to provide court costs of NIS 30,000.
The Association for Civil Rights in Israel considers this a particularly disappointing outcome, as the court refrained from providing a substantive and principled ruling that would have prohibited discrimination in the security inspection process. 
According to ACRI Attorney Auni Banna:
"The High Court of Justice has missed an opportunity to end formal ethnic discrimination at Israel's airports. Arab citizens are systematically tagged as suspects, and are made to go through a separate and degrading process solely due to their ethnic identity. While our appeal resulted in a number of positive changes in the inspection process for Arab travelers,  Arab citizens are still forced to undergo discriminatory and humiliating inspections. So long as the High Court refrains from clarifying categorically that ethnic discrimination is unacceptable, Arab citizens will continue to be fear the humiliation they will be subjected to each time they arrive at an airport."
The legal petition was originally filed in 2007, at which time ACRI demanded that the national identity criterion be removed from the process of determining the extent of the security checks for passengers at Israeli airports.  The petition sought the implementation of uniform and equal criteria for all security processes. In response, the court provided an interim order and requested that the state provide a formal justification for why such institutionalized discrimination should not be invalidated. Yet from that point onward, the court proceedings were dragged on for several years, as the state admitted that the scope of monitoring and inspection processes at the airports were based upon risk assessments that included ethnic profiling.
Over the years during which the hearings took place, various changes were introduced into the airport inspection process, which according to the state were designed to "alleviate the sense of discrimination". In March 2014, the new HBC inspection system was introduced to terminal 3 at Ben-Gurion Airport, that reduced the need to openly search the luggage of Arab travelers.
Despite these institutional improvements, ACRI's position remains that the core issue at the heart of this matter is the inclusion of ethnic criteria as a means of assessing the danger posed by travelers. 
Additional Materials
To read the full court judgment (in Hebrew), click here.
For background information on the original legal appeal, click here.