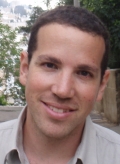 Dear friends,
How do you think a realtor should respond to a landlord's request not to sell or rent to 31Arabs? Or Mizrachim? Or to homosexuals? As part of our testers project, "Putting Discrimination to the Test," we asked Noy and Mustafa to call the same real estate agent about the same apartment within a short period of time.
Click below to see what happened next:
It is illegal for real estate agents to cooperate with these discriminatory demands! We turned to the Ministry of Justice (Hebrew) and demanded that they make all real estate agents aware that complying with these demands is illegal.
Real estate agents, we have a clear message for you: Racism is off the market!
Yours,
Adv. Gil Gan-Mor
Director of Social and Economic Rights Legal Unit