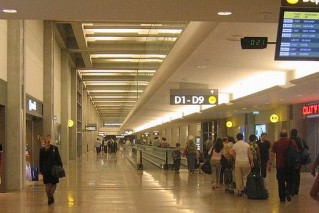 Ben-Gurion Airport, photo by Beny Shlevich, CC-by-SA
On March 3 2011, following ACRI's appeal, the High Court of Justice has issued an Order Nisi requiring the Israeli authorities to explain why they will not check all airport passengers according to equal and relevant criteria. Currently, all Arab citizens of Israel are automatically categorized as a "security threat" for the purpose of airport security checks.
On March 2, in a third hearing in ACRI's appeal against the Airport Authority regarding the discrimination against Arab citizens of Israel during security checks in airports, the HCJ Justices criticized the sweeping categorization of Arab citizens of Israel as a "security threat." During the hearing, President Beinisch stated that there is no doubt that the discrimination of Arab citizens during security checks is wrongful.
According to Attorney Auni Banna, who represented ACRI in this hearing together with Attorney Dan Yakir: "After extensive efforts of the State Attorney to create a smoke screen and to lead the discussion on irrelevant paths, in this third hearing we finally got to discuss the essential issue: Should it be permitted to sweepingly declare a minority group of Israeli citizens as a security threat."
Attorney Dan Yakir, ACRI's Chief Legal Counsel, mentioned that former GSS officials admitted that even after the High Court has forbidden them from using torture in interrogations, the state of Israel's security has not been harmed. Yakir: "The security authorities have a variety of means and methods for security checks. A democratic country cannot consent to the humiliation of 20 percent of its citizens."
Despite the authorities' promises regarding plans to improve the procedures and to decrease the feelings of humiliation, from the vague information that they have thus far submitted to the court, it is unclear what the planned changes are. However, ACRI states that since the appeal is on the question of the legality of the sweeping categorization of Arab citizens as "dangerous" – then even if planned changes will conceal some of the discrimination during security checks, the problem will not be solved. The very differentiation between Jewish and Arab citizens, and the categorizing of Arabs as a security threat, is humiliating and discriminating.
ACRI has appealed to the High Court of Justice against the Airport Authority, the General Security Service, and the Ministry of Transportation (HCJ 4797/07), demanding that they cease using the Arab nationality as a criterion during security checks in airports. Arab passengers receive a discriminatory and humiliating treatment in airports, including a special and thorough search that extremely exceeds the usual security checks, only because the passenger is Arab and with no other concrete basis for suspicion. In this appeal, ACRI demands that the scope and level of security checks will be determined for all citizens, Jews and Arabs alike, according to equal and relevant criteria. This appeal is currently still discussed in the HCJ.