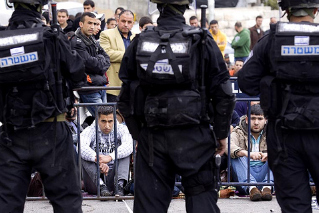 Police in East Jerusalem. Photo by Meged Gozani, Activestills
Following an investigative expose by Ha'aretz Journalist Nir Hasson, ACRI has sent an urgent letter to Attorney General Yehuda Weinstein demanding that he immediately investigate the circumstances of this matter. According to reports, police forces have been sending municipal officials "blacklists" of hundreds of East Jerusalem residents suspected of participating in disturbances and riots, in order to expand municipal enforcement measures against them and their families. The report notes the adoption of various enforcement measures including house demolitions, the immediate collection of unpaid taxes, and the closure of unlicensed businesses.
If an investigation substantiates these severe allegations, then the Attorney General must consider opening a criminal investigation and must take action against officials from the police and the municipality.
ACRI Attorney Anne Suciu explained in the letter to the Attorney General that:
"Adopting municipal enforcement measures against residents, just because they were suspected of committing unrelated offenses, is an illegal act that violates the integrity of the criminal process and trashes the presumption of innocence and the fundamental right to due process… The police have no authority to pass on a list of suspected offenders to other authorities with the purpose of taking unrelated enforcement measures against the names on the list."
Additional Materials
To read ACRI's letter to the Attorney General (in Hebrew), click here.
To read the original expose by Nir Hasson, click here.