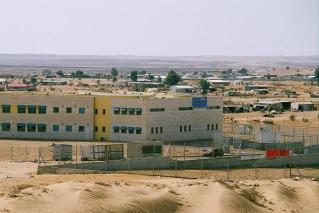 BirHadaj-cc-by-sa-Idobi
The government has approved the establishment of five new settlements in the Negev, thereby advancing the discriminatory policy against the Bedouin residents in the area. An investigation by ACRI and Bimkom indicates that two of the settlements are intended to be established where Bedouin villages already exist.
This decision means that thousands of people will be evacuated from their homes in order to establish settlements for Jewish communities. The settlement of Daya would be built on the unrecognized village of Katamat, which is home to 1,500 people and the Neve Gurion settlement is supposed to be built on part of the land of Beer Hadaj, a recognized village with approximately 6,000 residents.
ACRI and Bimkom are opposed to the government's plan, which will have an adverse impact economically, socially and environmentally on all settlements in the Negev desert – whether they are Arab, Jewish, recognized or unrecognized – and will be especially harmful for the Bedouin community. The state has refused to recognize the Bedouin villages in the Negev for decades, and has now decided to establish settlements in their place.
This decision is a mere continuation of the government's unequal planning policy, which attempts to move the inhabitants of Bedouin villages to urban or semi-urban settlements or existing townships, which are ranked at the bottom of the socio-economic ladder and are already under significant stress.
At the same time, the state is allowing for the establishment of more and more small communities designated for Jews. Instead of providing a proper and just solution for the Negev Bedouin, this plan has aggravated the situation and discriminates against the Bedouin community in violation of their rights to equality, dignity and shelter.