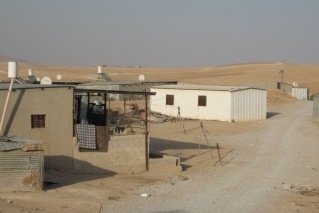 Today (17.07.2014) at 2pm, the High Court of Justice will hold an expedited hearing on a petition filed by residents of Bedouin villages in the Negev together with human rights organizations.
Yesterday residents of Bedouin villages in the Negev, both recognized and unrecognized villages, together with a number of human rights and Negev based organizations, filed an expedited petition to the High Court of Justice demanding the immediate provision of protective facilities for 100,000 Bedouin residents of recognized and unrecognized Negev villages. The petitioners are specifically requesting the immediate erection of mobile bomb shelters in the villages while more more long-term safe zones are constructed. The petition will be heard by Justices Yoram Danziger, Zvi Zylbertal and Noam Sohlberg.
The petition was submitted by ACRI Attorneys Auni Banna and Nisreen Alyan on behalf of the residents of the villages – including Omar Al Wakili from the village of Awajan, who is the uncle of Maram and Asil Wakili who were severely injured by falling rockets – in coordination with the Council of Unrecognized Villages in the Negev, Physicians for Human Rights – Israel, the Dukium Negev Coexistence Forum, Bimkom – Planners for Planning Rights.
The petition notes that even though the villages are well within the range of rocket fire from the Gaza Strip, they do not possess any permanent shelters, nor any temporary protective solutions. In addition, most of the residential structures in the villages are simple shacks and huts that can not provide any protection.
It was reported yesterday in the media that the village of Awajan, where the two wounded girls lived, is designated by the IDF as "uninhabited territory". There have been a number of rockets that have fallen in the vicinity of unrecognized villages in recent days.
In recent years, village residents and human rights organizations have turned repeatedly to the Ministry of Defence and the Home Front Command to provide protective facilities for these villages. Most of the letters were ignored. One of the responses provided to Physicians for Human Rights – Israel in 2009 explained that while advocacy activities were planned for village residents, there was no intention to provide any protective facilities to any Bedouin communities apart from Rahat.
ACRI Attorney Nisreen Alyan: It's sad to say that the writing was on the wall. Tens of thousands of Negev Bedouin residents have absolutely no protection from rocket fire coming from Gaza. The erection of mobile shelters is a measure that can save lives."