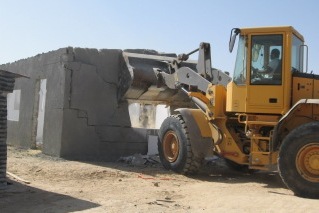 Demolition in an unrecognized village in the Negev
February 22, 2017
The incidents in Umm al Hiran are not a mistake, they are policy
The findings by the Police Investigation Unit, as reported in the media, point to severe failures on the part of the Police that cost people their lives. Nevertheless, it does not appear that there is any intention to recommend that criminal proceedings be conducted against those involved and responsible.  The incident reflects a worrisome trend in which, yet again, Public Security Minister Gilad Erdan and Police Commissioner Roni Alsheikh did not sufficiently prepare for the operation nor take the civilian population into consideration, as they did, for example, with the evacuation of the unauthorized outpost of Amona. They sent police forces to Umm al Hiran as if its residents were enemies – not citizens. Before the incident even ended, they declared it explicitly a terror attack and defamed the reputation of Yaqub al-Qian.
Minister Erdan and Police Commissioner Alsheikh and all the other relevant public authorities must reach the conclusion to fundamentally modify their behavior towards the Arab population: to treat them with respect as citizens with equal rights and stop treating them like the enemy; to recognize the unrecognized villages, and to make sure they are providing building plans suitable for the Arab population in general, and the Bedouin population in particular, based on its needs and requests. Until then, they must immediately cease all home demolitions and efforts to forcibly transfer other villages.
The government, the Bedouin authorities, and the Police must all learn lessons from this incident. After the tragic deaths of police officer Erez Levy and civilian Abu Al-Qian, they must do everything possible to prevent another tragedy.
For additional information, contact ACRI spokesperson Yaron Kelner 052-3410631