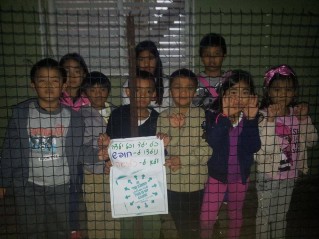 New study on psychological and physical health effects of detention conditions of children of work migrants and asylum seekers
The study, published on December 12, is the first to survey the detention and incarceration conditions of migrant children and parents in Israeli detention centers, and examine their psychological and physical effects. Conducted by Rotem Ilan, of the End Child Detention Coalition, with Professor Michelle Sloan and doctoral student Yael Me'ir, the study surveyed 66 children, adolescents and their parents – both asylum seekers and work migrants – who were detained in the past or are detained presently.
The End Child Detention Coalition, comprised of the Hotline for Migrant Workers, the Association for Civil Rights in Israel (ACRI)'s 'Israeli Children' project, and Physicians for Human Rights – Israel, seeks alternatives to prison for the approximately 5,000 minors without status in Israel
Child detention has become the state's default solution for children without legal status in Israel, despite the fact that the International Convention on the Rights of the Child states that child detention must be a last recourse only be applied after exhausting all other, less harmful, options. Yet this year alone over 200 children of migrants workers and asylum seekers were detained. The children are usually held in one of two facilities: Yahalom facility in Ben Gurion airport, where children of work migrants are detained prior to expulsion, or Saharonim detention facility, where children of asylum seekers are detained.
The report records acute psychological distress among a high percentage of parents and younger children. Most children under the age of 12 demonstrated psychological difficulties, severe emotional distress, and behavior problems. Parents who were detained with their children also displayed high levels of known distress symptoms: 46% of them reported suicidal thoughts, 50% reported panic, 46% reported anxiety, and 43% reported depression.
In all, responses from 83% of children over the age of 12 and their parents indicated post-trauma at high to severe levels. Among other recognizable symptoms respondents reported difficult in sleeping at night (54%), re-experiencing difficult memories and experiences (68%), physiological symptoms such as heart palpitations, difficulty breathing and excessive sweating (42%). Although it is impossible to identify whether earlier traumas, the detention itself, or a combination of the two were the source of the post-trauma, the longer the period for which the child was incarcerated, the greater was their psychological distress.
"End Child Detention" coalition calls on the government of Israel to adopt alternatives to detention – alternatives that do not cause irreversible damage and such as those being implemented in many Western states today.
Professor Michelle Sloan and Yael Me'ir of Tel Aviv Unversity: "The findings highlight extremely worrying statistics regarding the emotional and psychological conditions and development of children of migrants and asylum seekers who were arrested and detained. These serious outcomes are consistent with studies from other parts of the world showing that arrest and detention cause enormous damage to physical and mental health of children. The results highlight the urgent need to find alternatives to detention and imprisonment, and to prevent physical and mental damage to the children at any cost."
Dr. Graciela Carmon, pediatric psychiatrist and Co-Chairperson of Physicians for Human Rights – Israel: "The study bolsters the fact that prison is no place for children. Even a cage of gold is still a cage, and improving conditions is not an adequate response. Making more toys available doesn't hide the fact that these children are locked up behind bars. The children's safety can only be assured if we adopt humane alternatives, as are in place in other Western countries.
The recently-launched campaign "Prison is not a place for Children" calls on the state to adopt alternatives.
Related Materials
To read the full document (in Hebrew), click here.
To read a summary (in English) click here.
Watch the campaign video.
Visit the campaign's Facebook page.