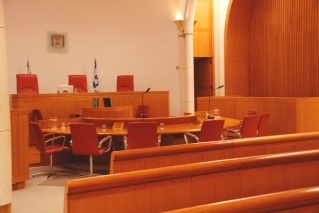 The Supreme Court, photo by Melanie Takefman
The Nakba Law and the Acceptance to Communities Law, part of the recent slew of anti-democratic legislation that ACRI has been relentlessly working to prevent, have been approved yesterday (22 March 2011) in their final reading in the Knesset plenum. ACRI: "The Knesset has trampled on the most basic democratic principles of equality and freedom of expression."
ACRI, together with the Abraham Fund Initiatives and residents of communal villages who oppose the bill (Atid Misgav), are filing a petition today to the High Court of Justice, demanding to disqualify the "Acceptance to Communities" law on the grounds that it provides a "license to discriminate" against "unwanted" communities, who are rejected by acceptance committees in communal villages and in kibbutz expansions. This law legalizes a common discriminatory practice, which has already been criticized by the HCJ.
In the petition, ACRI attorney Gil Gan-Mor notes that despite their title, in the majority of these communal villages life is not "communal" and they have no unique characteristics; and yet the law will enable discrimination in acceptance to these villages based on the vague criteria of "fitting with the life of the community" or "fitting with the social fabric." Based on these criteria, the committees currently reject "unwanted" communities that wish to live in the village – such as Arabs, single parents, disabled persons, same-sex couples, Mizrachi Jews, religious people, and so on.
(To read ACRI's full position on this bill, sent to Members of Knesset, click here).
The petition also examines previous petitions filed to the HCJ by applicants who were rejected from such communal villages, among them the family of a disabled IDF veteran, Arab families, a family of immigrants, and a family of Mizrachi Jews. There are currently two standing petitions before the HCJ, filed by families who were rejected from such villages for "not socially fitting." These couples are Ahuva and David Kempler, who wanted to live in the expansion of the Kibbutz Maayan Baruch; and Fathna and Ahmad Zbidat, who wanted to live in Rakefet. In the last hearing on this matter at the High Court of Justice, President Dorit Beinisch voiced harsh criticism on these acceptance committees and the intrusive interrogations they entail.
The petition further includes affidavits from residents of villages that already have such acceptance committees. A resident of the expansion of Kibbutz Maayan Baruch describes how the acceptance committee members explained to her that the selection process is frequently a cover-up, and its actual main purpose is to prevent the sale of property to Arabs and to ultra-Orthodox Jews, as a means to bypass the HCJ ruling that forbids discrimination.
In another affidavit, Mr. Eliyahu Stern, resident of the communal village Ya'ad, who was himself a member and chairperson of the acceptance committee in his village, details the selection process carried out by the committee. Mr. Stern states that very often, the committee decided to reject applicants because of a sudden caprice of one of the committee members. Mr. Stern also testifies that in most cases, the evaluation institutes used by the committees do not work to select applicants based on the village's requirements, but rather mainly operate as a professional "stamp" for the committee's decisions to reject applicants.
ACRI Attorney Gil Gan-Mor said today that: "We are filing a petition to the HCJ and demanding to disqualify the Acceptance to Communities law because it is a racist, inappropriate, and anti-democratic law. This law is intended to legally enable the establishment of Jewish-only communities, which has already been ruled as unconstitutional. This law also allows the residents of hundreds of 'quality of life' villages, which have no special character, to select and reject anyone they do not like, simply because that person or family is 'different.' This law sends a message of separatism and legally anchors discrimination against minority groups. The state condemned the recent, racist 'Rabbis Letter,' which called on Jews to not sell or rent apartments to Arabs, but this law is exactly the same."