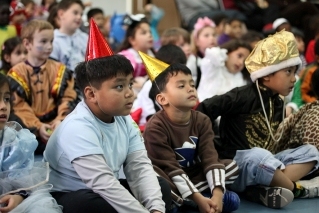 Children of migrant workers, Purim 2008, photo by Ofir Abramov
Human rights NGOs and aid organizations express grave concern over the fate of the children who will be held for unknown periods of time and under unknown circumstances at a new detention center in Ben Gurion Airport operated by the Interior Ministry's Oz Unit.
A day after "Strangers No More," a film on the Bialik-Rogozin School in Tel Aviv, won the Oscar award in the short documentary category, 12-year-old Esther who starred in the movie is facing a probable deportation alongside an estimated 120 pupils from her school. Esther fled from South Africa and arrived in Israel with her father four years ago – thus missing the five-year mark set as a condition to remaining in the country.


Though the Ministry of Interior is obligated to publish its policies, it has refused thus far to answer questions concerning the future operation of the detention center at the airport and the deportation procedures in general and those pertaining to children in particular. The only concrete information received at present are photo shots of swings and slides set up in the airport's detention center.

The authorities have refused to elaborate how they are planning to care for the hundreds of children and provide needed protection in such exceptionally delicate and difficult circumstances: Will children be separated from parents? Would a time limit be set for keeping a child in detention? What type of personnel will be tasked with carrying out arrests and supervising daily life at the detention center? What type of training would those who come in contact with children receive? Which procedures would be allowed pertaining to the use of force and handcuffing? And will there be no alternative provided for children but to be placed behind bars?