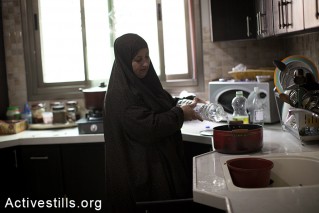 Several agencies and authorities filed responses to the High Court of Justice yesterday in accordance with a court order issued in a petition filed by the Association for Civil Rights in Israel (ACRI) seeking a solution to the water crisis in the Jerusalem neighborhoods east of the Separation Barrier. The Israel Water and Sewage Authority, the Ministry of National Infrastructures, Energy and Water Resources, Hagihon (Jerusalem's water utility), and the Jerusalem Municipality filed updates regarding steps taken so far to solve the crisis.
The responses filed by the Water Authority and the Ministry of Infrastructure stated that several high level meetings were held with the goal of "working out solutions to the problem from planning and engineering perspectives, from a legal perspective … from a financial perspective and a security perspective." They each requested 90 additional days to continue examining the situation.
Hagihon's response strongly criticized the Water Authority and the Ministry of Infrastructure for failing to deliver answers regarding the resolution of the problem, highlighting that the treasury and water authorities have been discussing how to find the financing for the necessary infrastructure work for over two years. Hagihon estimates this work will cost 189.5 million shekels.
The Jerusalem municipality response stated that it is not responsible for delivering water to city residents and that it has no authority in the matter, because "under existing laws, it has no practical ability to control the water within its boundaries." The municipality stated outright that its ability to provide daily ongoing services to the neighborhoods east of the wall is very limited.
ACRI Attorney Keren Tzafrir: "Sadly, just weeks after the celebrations marking the 'unification' of the city, the municipality doesn't even hide its sweeping repudiation of Jerusalem residents living on the other side of the separation barrier. Just a month ago, we saw the mayor rush to the Hagihon control room following a water supply problem in West Jerusalem. In the eastern neighborhoods beyond the barrier, this problem has persisted for four months, and it seems no government body deems it urgent enough to solve."
Jamil Sanduka, Chairman of the Ras Khamis Neighborhood Committee and one of the petitioners: "Life has become unbearable over the past few months. The water crisis limits our ability to shower, clean, and launder clothes – basic things. If this happened in the west of the city a committee of inquiry would have been established. We can't stand it any longer."
Additional Materials
Response of the authorities to the court (in Hebrew).
Further background information including excerpts from the petition (in English).