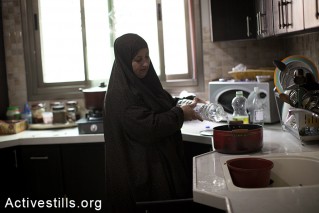 Update: On April 2, 2014, the High Court of Justice granted the State an additional 60 days to present an update on their progress in dealing with this problem.
For some three weeks now, tens of thousands of residents of Jerusalem neighborhoods east of the Separation Barrier have been without running water. In response, local residents, community leaders and the Association for Civil Rights in Israel (ACRI) have filed a petition to the High Court of Justice.
In the petition, ACRI Attorney Karen Tzafrir noted that most of the homes in the neighborhoods of Ras Hamis, Ras Shahada, Dahyat a-Salam, and the Shuafat Refugee Camp (all inside Jerusalem's municipal boundaries) have either no water or at all or water pressure so weak that it stops periodically. Families have had no choice but to buy bottled water or large containers and limit their consumption – drinking, showering, laundry and cleaning – to absolute minimums.
The petitioners demand that the responsible authorities – the Israel Water and Sewage Authority, the Ministry of National Infrastructures, Energy and Water Resources, Hagihon (Jerusalem's water utility), and the Jerusalem Municipality – take all necessary action to ensure that Hagihon supplies running water to all of the homes in the area. The right to water is a fundamental right bound with the rights to health and dignity.
The water problem is the latest and perhaps most acute example of the authorities' neglect of the neighborhoods on the eastern side of the wall. Educational, welfare, transportation, waste, infrastructure, and even police services are all almost completely absent from the area. Hagihon representatives admit that presently the water infrastructure can support 15,000 people; the area's population is estimated to be between 60,000 and 80,000.
Jamil Sanduka, Chairman of the Ras Hamis Neighborhood Committee: "As a result of the situation, residents are forced to buy bottles of water at exorbitant prices – and this is a population in which eighty percent of people are living under the poverty line. There are elderly, babies, and people with disabilities, and the situation has become unbearable. Anywhere else, if thousands of people were without running water, this problem would have been solved quickly. In our case, the problem is first and foremost that all the responsible parties simply do not care."
ACRI Attorney Karen Zafrir: "These are residents of Jerusalem, totally under the responsibility of the municipality and the government. The separation barrier that cuts these neighborhoods off from the rest of the city does not in any way absolve the authorities of their failures."
Additional Materials
Excerpts from the petition (in English).
The full petition and supporting information (in Hebrew).