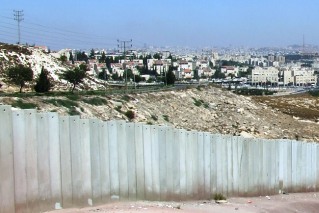 Photography: Ronit Sela
Ahead of Jerusalem Day, marked in Israel this Tuesday, 27 May 2014, The Association for Civil Rights in Israel presents you with up-to-date facts and figures on the life of Palestinians in Jerusalem, detailing the effects that the Israeli policies have on their basic rights.

East Jerusalem – Facts and Figures
Population
East Jerusalem residents make up 37% of the city's population. According to the Central Bureau of Statistics, of the 815,300 residents in the city – 301,100 are Palestinian (37%). [1]
Poverty & Welfare
75.3% of East Jerusalem residents, and 82.2% of East Jerusalem children, live below the poverty line. [2]
7,514 Palestinian children, representing 53% of the children under the auspices of municipal welfare services, are defined as children at risk. [3]
While there are 18 welfare offices operating in Jerusalem's western neighborhoods, there are only 5 offices in East Jerusalem. Social workers in West Jerusalem handle an average of 90 cases per person, compared with 120 cases per social worker in East Jerusalem. [4] According to the Minister of Welfare and Social Services, the ministry had attempted to add a further 140 welfare officers in East Jerusalem, but the Civil Service Commission has so far prevented the implementation of this policy. [5]
Education
Only 53% of Palestinian students attend official public schools. A shortage of over 2,000 classrooms in the local school system, and many students are forced to crowd into housing apartments that are converted into schools. Despite the official commitments given to the High Court of Justice to narrow this gap before 2016, only a few dozen new classrooms are constructed each year. [6]
According to a government decision, all Israeli children over the age of 3 are entitled to free education, yet only 6% of East Jerusalem children between the ages of 3 and 4 attend public kindergartens due to a shortage of approximately 400 kindergarten classrooms. [7]
36% of students in East Jerusalem do not complete 12 years of schooling. [8]
Those high school students who do complete their studies, complete Palestinian matriculation examinations, and so find it extremely difficult to gain admission to Israeli universities. Students who attend Palestinian universities, including Al-Quds University, have great difficulty in receiving formal recognition in Israel of their degrees. In April 2014, the court ruled that medical degrees received from Al-Quds University must be recognized.
Health
There are 25 mother-and-baby health centres in the west of the city, and only 4 in the east. The pledge to build a fifth centre has been delayed already for several years.
85-90% of adults and 90% of the minors who require mental health care, are unable to receive it. [9]
The erection of the separation barrier, and restrictions placed on the arrival of patients and medical staff from the Occupied Territories into Jerusalem, has caused extreme financial deficits and financial difficulties in managing East Jerusalem medical institutions. In 2013 the European Union transferred NIS 61 million to the Palestinian Authority to assist the six Palestinian hospitals in Jerusalem deal with the financial crisis they have been forced to contend with. [10]
Development, Construction & House Demolitions
Only 14% of East Jerusalem territory is zoned for Palestinian residential construction. The maximum level of construction in Palestinian neighborhoods stands at 25-50% of capacity, while Jewish neighborhoods build at 75%-125%. [11] Since the beginning of 2014, more than 17 houses and buildings have been demolished.
Since 1967, 1/3 of all Palestinian land in Jerusalem has been confiscated, upon which tens of thousands of houses have been built for Jewish residents. 35% of zoned areas in Palestinian neighborhoods have been designated as "open landscape areas" upon which it is forbidden to build. [12]
Outline plans for Palestinian neighborhoods do not encompass most of the land owned by its residents. Local and regional planning and construction committees refuse to promote plans that are submitted to enable development in Palestinian neighborhoods. In April 2014, a group of residents submitted a petition to the courts demanding that the municipality take steps to advance building plans for A-Sawhara that were completed in 2008. [13]
Water and Sewage
East Jerusalem is suffering from a dire shortage of sewage pipes – 50km in all. [14] In the absence of appropriate sewage, the residents are forced to use septic tanks that repeatedly flood, resulting in a host of public hazards.
Ongoing difficulties also exist with respect to access to fresh water. In March 2014 water services were disrupted in thousands of buildings in the neighborhoods east of the separation barrier and past the Shuafat Refugee Camp checkpoint. During a High Court hearing on an expedited petition filed by ACRI on behalf of the residents, representatives of the state declared that they do not know the source of the problem or how to sole it, and asked for 60 days to examine the issue. [15]
Postal Services
East Jerusalem has just 9 post offices, compared with 42 in West Jerusalem; in many neighborhoods, mail delivery is infrequent and irregular – 8 mail carriers and 3 subcontractors deliver mail to all of East Jerusalem, compared to 133 mail carriers working in the west. In 8 East Jerusalem neighborhoods, mail is delivered via various storefronts – groceries and hairdressers. [16] Following a petition filed by ACRI to the High Court of Justice, [17] the city began giving names to the streets and numbers to the buildings, which should make regular home delivery possible. According to the city, the assignation of street names is scheduled to be completed within a few months. [18]
Beyond the Separation Barrier
The construction of 142km of the separation barrier, [19] the closure of checkpoints, and a policy of requiring entry permits have cut East Jerusalem off from the rest of the West Bank and led to a weakening in the social and economic conditions of residents. Throughout 2014, construction of the wall continued in the areas of Al-Wallaje and A-Sawahre.
More than 100,000 residents [20] of the neighborhoods Ras Khamis, Ras Shahada, Dahyat a-Salam, the Shuafat Refugee Camp, Kfar Aqeb, and Samirmis were cut off from the rest of Jerusalem by the wall, and have suffered from abject neglect ever since. Despite the fact that the neighborhoods are located within the municipal boundaries of Jerusalem in an area that was annexed by the State of Israel, they do not receive even the most basic services. There are only three schools operating in the area; there is no garbage collection; no playgrounds, street lamps or sidewalks; many roads are unpaved or not maintained, and public transportation is sparse. [21] There is no police presence and residents complain of unabated rises in crime. Every day residents must pass through checkpoints in order to reach the rest of the city for work, school, medical attention, family visits, etc. The Qalandiya and Shuafat checkpoints suffer from heavy traffic that make passing through them extraordinarily difficult.
Residency Status
From 1967-2013 Israel revoked the residency of 14,309 East Jerusalem Palestinians; in 2013, the Ministry of the Interior revoked the residency of 106 East Jerusalem Palestinians, including 50 women and 24 minors. This year Israel reinstated residency for 35 East Jerusalemites; [22] the High Court of Justice rejected an appeal to cease the policy of revoking residency. [23]
Thousands of families in Jerusalem are forced to deal with difficulties created by an amendment to the Law of Citizenship according to which residents of the West Bank married to Israeli residents or citizens are no longer entitled to residency status in Israel. They are now able to attain temporary permits at best. In response to a High Court petition filed by various organizations, [24] the government refused to grant national insurance benefits to family members without status; in 2014 the Minister of Health approved new regulations that entrench inadequate, expensive, and discriminatory arrangements for Palestinian family members, as compared to the full health benefits to which other foreigners married to Israelis are entitled to receive.
---