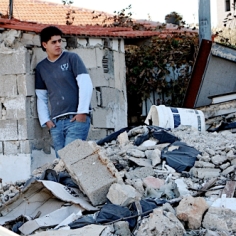 Planning and Building Rights
You have reached ACRI's archive, updated with our activity up until 2018. For more recent posts, please visit our current website here.
Nowhere is discriminatory housing and planning policies more clear than in Jerusalem. In East Jerusalem, the predominantly Palestinian population is only permitted to build on 17% of the land, while 35% of the land in planned Palestinian neighborhoods has been designated as "open landscape areas" on which it is forbidden to build. On average, the Jewish Israeli resident of Jerusalem is allotted approximately 20 m/sq of housing, those Palestinians who do find available housing are only allotted 11 m/sq. Only 13% of the residential building permits granted each year are in Palestinian neighborhoods.
This blatant inequality perpetuates the socioeconomic imbalance, and inhibits the Palestinian residents of Jerusalem from realizing their basic right to housing. ACRI acknowledges that the overwhelming poverty among the Palestinians of East Jerusalem is a result of these discriminatory policies. As a result, ACRI continues to petition for the equal housing rights of Jerusalem's Arab residents, while seeking improved infrastructure in East Jerusalem including postal services, sewage, water, and communications.