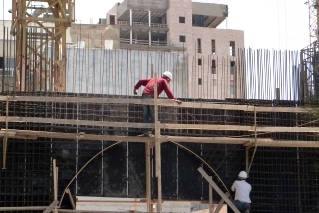 By Emily Schneider
Haifa Magistrate's Court approves a settlement in a precedent-setting suit filed against a real estate developer who discriminated against Arab buyers.  The defendant, developer Moshe Hadif Group, will pay NIS 50,000 to the plaintiffs. The Israel Lands Authority, also named as a defendant, agrees to levy fines on developers who discriminate between buyers. 
Plaintiff Sami Hawari, a resident of Acre and Director of the Al-Yater Association for the Social and Cultural Development of Acre, inquired about purchasing a unit in the Moshe Hadif Group's Green Palace development.  Mr. Hawari's inquiries were met with evasive responses.  Subsequently, an investigative journalist from Israel's Channel 10 News pretended to be a potential client and was told explicitly that there will be no Arabs in the development.
Hawari, along with Al-Yater and the Association for Civil Rights in Israel (ACRI), filed a civil suit against the developer under the Prohibition of Discrimination in Products, Services and Entry into Places of Entertainment and Public Places Law.  Attorney Adam Fish represented the plaintiffs pro bono. In a settlement reached today (June 12) and approved by the court, the company agreed to pay NIS 50,000 in compensation, half to Al-Yater and half to ACRI, with the funds earmarked for projects that combat discrimination.  Hawari, the plaintiff who sought to purchase an apartment, declined individual compensation.
The Israel Lands Authority (ILA), which was sued as a co-defendant for its failure to supervise the developer, announced new sanctions on the discriminatory practices of developers, and agreed to add a new clause that enables the state to levy fines on developers who illegally discriminate among buyers into every residential land tender.
Sami Hawari, director of Al-Yater, said in response: "This important decision strengthens my faith in the legal system. I hope that our accomplishment will open a new era of justice and respect for citizen's dignity and rights, and will encourage everyone who experiences discrimination or abuse from service providers not to remain silent – to go out and fight.  I am happy that the compensation will be used for further efforts to combat discrimination and racism."
Attorney Gil Gan-Mor, Director of ACRI's Right to Housing Project: "Developers and real estate entrepreneurs who discriminate in the marketing of apartment units now know that they are exposed to civil lawsuits, disqualification from tenders and steep fines.  Victims of discrimination can file a lawsuit and receive compensation even in excess of NIS 50,000 without needing to prove damages. ACRI will continue to work to eradicate the practice of housing discrimination."
To read the court filings (in Hebrew) click here.