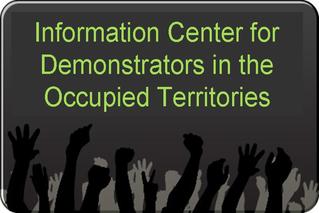 The Association for Civil Rights in Israel has launched a new online information center containing a vast range of theoretical and practical information on the rights of protesters and human rights activists in the Occupied Territories.
Dealing with the military and police in the West Bank is not like dealing with the police inside the Green Line. Protesting in the West Bank is not like protesting in a democratic country. In fact, from the army's perspective, there is no such thing as a legal demonstration in the West Bank. The police and army do everything they can to thwart any attempt to engage in protests – even non-violent protests.
But when is it permissible for the army to disperse a demonstration and when have they overstepped their legal authority? What legal means can the IDF use in order to disperse demonstrations? What is the difference between a legally valid closed military zone and an illegal order? What can we do when the army prevents protesters from accessing to a certain area? When are soldiers allowed to arrest or detain a protester Where can we lodge formal complaints, and who can we turn to when our rights are infringed upon?
 All these questions and many more are answered in our Information Center.
Even in a democratic state, protesting carries risks. You run the risk of having your rights infringed upon or being violently confronted in an attempt to silence you. Sometimes you even risk arrest. When you go out to demonstrate against the occupation in the territories, the risks turn into genuine dangers.
Nevertheless, demonstrations are one of the most effective ways to take a stand and make a difference. In the case the West Bank, demonstrations are one of the few legitimate ways in which residents, together with Israeli and international activists, can protest against the occupation and fight against the oppression and discrimination that emerges from military rule. These actions are essential to try to improve the life of Palestinians living under occupation.
In the Occupied Territories, protesters can and need to stand up for their rights and fight for the opportunity to demonstrate. When the automatic suppression of protests is the norm, it is important to know when the army is legally utilizing military law and when it is illegally 'taking the initiative'. You can and should fight over the minor details. Even if the struggle does not yield immediate results, it can have an accumulative effect.
The Information Center is available in three languages​​: