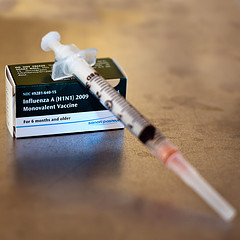 A group of human rights organizations and Ethiopian immigrants' groups sent a letter to the Director General of the Ministry of Health, Professor Ron Gamzu, on January 10, 2013, to raise the subject of the widespread provision of Depo-Provera contraceptive injections to Ethiopian women Israel.
The use of this contraceptive can cause serious physical and psychological side effects, and is not recommended by the Ministry of Health or by gynecologists except in exceptional circumstances. This issue was first raised in an article published by Yedioth Ahronoth in 2008, which prompted the Isha L'Isha organization to carry out an in-depth study into the issues. Last month journalist Gal Gabai in a feature on educational television revealed that the practice continues.
ACRI Attorney Sharona Eliyahu-Chai requested in the letter that the Ministry of Health adopt a number of steps to ensure the practice will not continue. These include instructing the Health Maintenance Organizations not to provide any injections without making enquiries about the medical condition of each woman and whether the drug is suitable for her circumstances, not to provide any injections without informing the women of the possible side-effects of the drug and providing information about alternative contraceptive methods.
The letter made clear that the HMOs should provide full explanations to these Ethiopian women and use Amharic translators to convey the information directly to the patient and ensure that they understand the explanation.
We also recommended that a note be included in the patient's medical records recording that conversation took place and urged Prof Gamzu to consider examining the background to the practice and to collect updated figures on the use of the contraceptive.
As a consequence of the letter, Professor Gamzu sent a letter to the directors of all Israeli HMOs on January 20 stating:
"Without taking a position or establishing any facts regarding the allegations raised in this matter, I have instructed that in the future all gynecologists working for or with the health maintenance organizations are not to renew any Depo-Provera prescriptions for women originating from Ethiopia or for any other women for whom there is a concern that they do not fully understand the implications of the treatment.
"Only following a conversation in which the doctor will determine why the patient is using contraceptive products, why she is using this product in particular, whether she is attempting to prevent pregnancy voluntarily and whether she understands the side effects of the product as opposed to other contraceptive means should a prescription be renewed."
The organizations in whose name the letter was sent to Professor Gamzu were:
The Association for Civil Rights in Israel, Isha L'Isha, Tebekka, The Israel Association for Ethiopian Jews, Physicians for Human Rights and the Tmura Center.