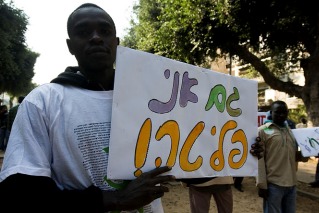 Photo by Meged Gozani, Activestills
In reply to court petition, State Attorney emphasizes that the Minister of Interior's announcement was his alone, made without a government decision on the matter.

Today (October 25) the State Attorney's Office submitted its reply to a petition to enjoin the mass arrest of Sudanese asylum seekers. Despite Minister of the Interior Eli Yishai's prior announcement, the State Attorney's reply states explicitly that no official decision was taken on the arrest of Sudanese citizens in Israel.

On August 28, 2012, the Minister of the Interior publicly announced that all Sudanese asylum seekers will have until October 15 to leave Israel, after which they will be arrested and detained. This announcement was issued of Minister Yishai's own accord, without coordination and did not receive the authorization of a government agency. The State Attorney emphasized in its reply that the Population and Immigration Authority received no instructions to arrest Sudanese citizens, and that should such a decision be reached in the future, it shall be published through official channels by the Authority thirty days prior to its execution.

The reply was submitted in response to a petition filed in the Jerusalem District Court on October 3 by six Sudanese asylum seekers and six human rights organizations – the Clinic for Migrants' Rights at the Academic Center of Law and Business, the Association for Civil Rights in Israel (ACRI), the Hotline for Migrant Workers, ASSAF – Aid Organization for Refugees and Asylum Seekers in Israel, the African Refugee Development Center (ADRC), and Kav LaOved – seeking an injunction to prevent the Minister of the Interior from imprisoning Sudanese refugees.

The petition, prepared by Attorney Oded Feller of ACRI and Attorney Yonatan Berman of the Clinic for Migrants' Rights, highlighted Minister Yishai's statements to the media in which he said that the purpose of these detentions would be to make the lives of the Sudanese asylum seekers unbearable.

On October 11, Jerusalem District Court Judge Nava Ben-Or issued a preliminary injunction prohibiting the arrest of asylum seekers from Sudan until a further decision was reached, and set a hearing for October 30. The State Attorney filed its reply today.

Attorney Oded Feller: "Eli Yishai, Deputy Prime Minister and Minister of the Interior of the State of Israel, took a severe and unprecedented act, and no responsible authority took action to restrain him. The minister responsible for treatment of asylum seekers did not hesitate to issue the baseless and cruel announcement that thousands of asylum seekers along with their children would be detained in extreme conditions in the desert. The decree sowed panic among thousands of people, including refugees and victims of genocide and torture, women, children and infants. The Prime Minister and Attorney General, who knew the announcement had no foundation, stood by and said nothing."

To read the State Attorney's reply (PDF in Hebrew) click here.