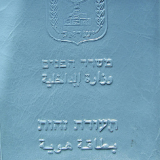 CC BY 2.0: zeevveez
In December 2015 ACRI and the Hotline for Refugees and Migrants petitioned the Supreme Court to compare the procedures for naturalization for common-law partners to the procedure in place for married couples.
The petition was focused on the story of a common law couple – Alon, an Israeli citizen, and Kittipoom, a citizen of Thailand. When Alon and Kittipoom applied to the Population and Immigration Authority for Kittipoom to acquire Israeli citizenship, he was required to renounce his Thai citizenship. However, renouncing foreign citizenship is not a condition required of married couples.
In response to the petition, the Authority insisted that concessions in the naturalization procedure were only given to married couples.
On 30 March 2016 the court imposed a conditional order and required the Minister of Interior to explain why it is not possible to naturalize common law spouses according to the same procedure that is in place for married couples.
On 1 August 2016, the Population and Immigration Authority issued a response to the conditional order, stating that they have decided to change their procedures. Common-law partners who have completed the process of obtaining status in Israel will now be able to become citizens on the same terms as married couples (i.e. without being required to renounce other citizenship).
For more information please see:
Common-law spouses of Israelis can now naturalize without renouncing previous citizenship
By: Omri Efraim, Ynet, 7 August 2016