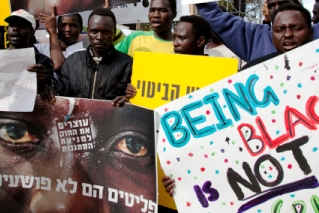 Photo by Tom Raviv
[Update, 11 October 2012: Jerusalem District Court Judge Nava Ben-Or issued a preliminary injunction prohibiting the arrest of asylum seekers from Sudan. A hearing has been set for October 30, 2012.]

If allowed to proceed, Minister Yishai's plan will involve mass arrests and indefinite detention of thousands of people, including children; UN High Commissioner on Refugees: there is no factual or legal basis to the claim that Sudanese asylum seekers are not refugees.

Today (3 October 2012), The Association for Civil Rights in Israel (ACRI), and the Clinic for Migrants' Rights at the Academic Center of Law and Business in Ramat Gan filed a petition in the Jerusalem District Court on behalf of six Sudanese asylum seekers and five human rights organizations seeking an injunction to prevent the Minister of the Interior, Eli Yishai, from imprisoning Sudanese refugees.  Five of the Sudanese petitioners are from the region of Darfur. The four other human rights organization petitioners are Hotline for Migrant Workers, ASSAF – Aid Organization for Refugees and Asylum Seekers in Israel, The African Refugee Development Center (ADRC), and Kav La'Oved.

On August 28, 2012, the Minister of the Interior publicly announced that all Sudanese asylum seekers will have until October 15 to leave Israel, after which they will be arrested and detained.  In interviews with the media, the Minister said that the purpose of these detentions would be to make the lives of the Sudanese asylum seekers unbearable.

If this policy is enacted, thousands of Sudanese asylum seekers along with their children will be hunted down, arrested en masse, and detained indefinitely in extreme conditions in the desert.  Included among these people are survivors of genocide and other atrocities in Darfur and other areas.  An additional consequence of the Minister of the Interior's decision will be the annulment of the Sudanese asylum seekers' temporary protection, which allowed them to be employed under certain limited conditions. Without such permits, those who manage to avoid arrest will have no means to procure food or shelter.

The central arguments of the petition are:
that the detentions announced by the Minister of the Interior are arbitrary, since there is no legal or practical possibility of returning Sudanese citizens to their country;
that the Minster of the Interior lacks the authority to issue these arrests under the Law to Prevent Infiltration. This authority is granted under the law to the Minster of Defense and he has not delegated it to the Minister of the Interior; and
even if the Minister of the Interior had the authority to make the declaration as he did, his decision is not lawful because it is not designed for an appropriate purpose, because it is discriminatory, arbitrary, and unfair, and because the violation of fundamental rights caused by it are severe and potentially fatal.

The petition is supported by a strongly worded letter from the Israel Representative of the UN High Commissioner for Refugees dated October 2.  The Commissioner expressed his concern on several levels, including Israel's failure to make individual determinations of the asylum seekers' refugee status; the fact that the refugees come from regions such as Darfur with well known and well documented human rights abuses; the extreme and present danger of deporting anyone to Sudan after they are known to have been in Israel because of Sudan and Israel's consideration of each other as "enemy states"; the humanitarian risks of canceling the limited employment opportunities previously afforded by Israel's policy; and the UN's general directive to avoid the detention of asylum seekers and use it only as a last resort.

The Commissioner also countered the Minister of the Interior's claim that Sudanese asylum seekers in Israel are not refugees but rather economic migrants: "It is essential to note that sizable number of Sudanese asylum seekers in Israel originate from regions subjected to well recognized human rights abuses, such as Darfur […] Statements to the effect that Sudanese in Israel are not refugees are not factually or legally correct."