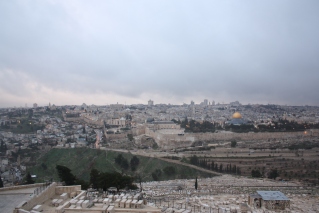 CC-by-Wknight94
In response to the remarks of Jerusalem Mayor Nir Barkat, as reported yesterday by the newspaper Ma'ariv (14 December 2011), in which the mayor stated that "we should give up on the municipal areas of Jerusalem that lie outside the Separation Barrier", ACRI immediately appealed to Barkat, demanding a clarification that he and the Jerusalem Municipality are committed to supplying all essential services to the residents of those neighborhoods which lie within the municipal boundaries of Jerusalem and yet are cut off from the city by the Separation Barrier.

"In light of the difficult situation that the residents of these neighborhoods have faced for several years now, your words have only added to the fog of confusion that shrouds the status of these areas, and to the fears of their residents. As mayor, it is your obligation to make it clear that given the current state of affairs, you are committed to these residents' rights as much as you are committed to protecting the rights of every other Jerusalemite. It is inappropriate for a standing mayor to renounce responsibility for his own residents, a situation which can only exacerbate already high existing tensions."

In the letter, ACRI attorney Nisreen Alyan added that "in recent years, some of the municipal services provided to these areas have been privatized, a situation which has only worsened the already poor quality of basic services there, despite the fact that area residents continue to pay taxes to the Jerusalem Municipality."  ACRI demanded that the mayor clarify his statement to make it unequivocally clear to the various municipal bodies responsible for providing essential services and ensuring the welfare of these residents that they must treat the residents of these neighborhoods as full Jerusalem residents in every respect, with the full complement of rights that go with it.

A translation of the full text of the letter is below.


15 Dec. 2012


Re: The obligation of the Jerusalem Municipality to its residents in neighborhoods beyond the Separation Fence
Mr. Nir Barkat
Mayor of Jerusalem
Dear Sir,
1. We appeal to you following the statements you made yesterday regarding the fate of those Palestinian neighborhoods lying beyond the Separation Barrier. We would appreciate an unequivocal clarification from you regarding the Jerusalem Municipality's responsibility to provide essential services to these neighborhoods and its obligation to ensure the rights of neighborhood residents.
2. On 14 December 2011, the newspaper Ma'ariv published your statements made during the Israel and its Surrounding Fences Conference sponsored by the Israel National Defense College Alumni Association, in which you were quoted as saying: "We should give up on the municipal areas of Jerusalem that lie outside the Separation Barrier." You were further quoted as saying: "I recommend that we position ourselves on the Barrier as it now stands, which is to say, we should relinquish the municipal territories that lie beyond it, and annex those areas that lie within the Israeli side that are not currently under the municipal responsibility of Jerusalem."
3. Regarding this matter, on 7 January 2010, Mr. Yakir Segev, the Jerusalem Council member who held the East Jerusalem Portfolio at the time was quoted as saying that: "The Jerusalem Municipality today has no role whatsoever in the administration of these neighborhoods, nor does it have the ability to deal with the complexity of the situation that affects their 55,000 residents.  The State of Israel has relinquished these neighborhoods. They are outside of the adjudicative space of Israel, and certainly outside of the Jerusalem municipality." It is worth noting that Segev's words led to heightened tensions, and following them the municipality was quick to emphasize that his statement was not reflective of its policy.
4. As you know, tens of thousands of Jerusalem's residents – Palestinians residing in the neighborhoods of Ras Khamis, Dahiyat al-Salaam, the Shu'afat Refugee Camp, and Kafr 'Aqeb – today live in growing uncertainty about their fate. These are full Jerusalem residents living within the city's municipal borders and carrying blue Israeli identity cards, and yet they are entirely cut off from their city by walls, fences, and barriers. This one-sided exclusion and isolation decreed by the authorities has caused neighborhood residents continual suffering.
5. In recent years, some of the municipal services provided to these areas have been privatized, a situation which has only worsened the already poor quality of basic services there, this despite the fact that area residents continue to pay taxes to the Jerusalem municipality.  These policies, which are also reflected in the shoestring budgets allocated to these neighborhoods, are illegal and harm the basic rights of tens of thousands of residents, including: their right to live in clean and sanitary conditions, their children's right to attend school, their right to healthcare services, to proper public infrastructure and utilities, to administrative and communal services, to veterinary services, etc.
6. Moreover, the route of the Separation Barrier entails a long list of injuries suffered by local residents who are forced to transverse checkpoints daily. These include a dramatic drop in ambulance and fire department services provided to these neighborhoods, and the almost total disappearance of the police. In these neighborhoods today, there is no system of law and order, a fact that is known to all the relevant parties.
7. In light of the difficult situation that the residents of these neighborhoods have faced for several years now, your words have only added to the fog of confusion that shrouds the status of these areas, and to the fears of their residents. As mayor, it is your obligation to make it clear that given the current state of affairs, you are committed to these residents' rights as much as you are committed to protecting the rights of every other Jerusalemite.  It is inappropriate for a standing mayor to renounce responsibility for his own residents, a situation which can only exacerbate already high existing tensions.
8. Moreover, we ask that you make it unequivocally clear to the various municipal bodies responsible for providing essential services and ensuring the welfare of these residents that they must treat the residents of these neighborhoods as full Jerusalem residents in every respect, with the full complement of rights that go with it.
9. We would appreciate a clarification from you regarding your position and that of the Jerusalem Municipality on this matter, and we ask that you take resolute steps to eliminate discrimination in the allocation of budgets and the provision of municipal services to those neighborhoods of East Jerusalem beyond the Separation Fence, so that their citizens can fully exercise their rights listed above.

Sincerely,
Nisreen Alyan, Attorney
The Association for Civil Rights in Israel