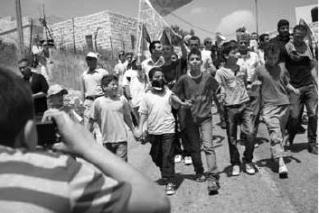 Photo by Oren Ziv, Activestills
Following recent publications regarding the preparation of Israeli security forces ahead of the anticipated protests to take place during the Palestinian bid at the UN, ACRI has prepared a "Know Your Rights" fact sheet about freedom of protest in the Occupied Territories. The purpose of this fact sheet is to clarify the rights of demonstrators in the Occupied Territories according to the current system of law, and to explain how to deal with violations of these rights.
To download the Know Your Rights fact sheet, click here (or see embedded document below).
ACRI Executive Director Hagai El-Ad stated: "The police's aim to guarantee freedom of protest to Palestinian citizens of Israel, as inferred by Israel's Police Chief, is a step in the right direction whose real test will be its manifestation on the ground. However, the reality in the Occupied Territories is substantially different. We are concerned that the Israeli military's preparation for the expected protests in the territories is based on a very different approach – one that automatically treats every Palestinian demonstration in the Occupied Territories as a security threat. These are people who want and have the right to express their opposition – as hundreds of thousands of Israelis did throughout the summer. The IDF must work to maintain order throughout the demonstrations, with two primary goals in mind: Enabling the realization of the freedom to protest and preventing casualties."
The "Know Your Rights" fact sheet addresses, among other things:
The freedom to protest and march and existing military legislation on this matter, which automatically deem any Palestinian protest in the Occupied Territories illegal
When and under what circumstances do security forces have the authority to disperse a protest
What means are the security forces permitted and forbidden to use to disperse demonstrators
Employing a closed military zone order: Who is certified to declare an area a closed military zone and under what circumstances
The right to film and document protests
Due Process: Rights of those detained and arrested and the existing laws in this regard, as well as the rights during investigation of both adults and minors
List of entities that a protestor can turn to in if they believe that their rights have been violated, including direct phone numbers
Rights of Demonstrators in the Occupied Territories – English