Report and Photo Gallery: Israel Must Protect All Residents' Right to Housing
Photos of Israel's housing crisis available here
JERUSALEM – July 13, 2008 – The government must provide all individuals in Israel with access to adequate housing in order to ensure they live in dignity, according to ACRI's report "Real Estate or Rights: Housing Rights and Government Policy in Israel" released today. As a result of the state's deficient housing policies, more and more Israelis live in inadequate conditions, particularly members of minority groups and the poor.
ACRI's report lists comprehensive recommendations for the state, which if followed will ensure an adequate standard of living for all Israelis.
In recent years, Israel's state housing policies have changed beyond recognition, with the dominant trend being to shirk responsibility and privatize. One of the main purposes of ACRI's report is to infuse the term "right to housing" with clear and concrete meaning, and then to show how this is reflected in Israeli housing policies, and how these compare with the housing policies of other developed countries. In doing so, we hope to jumpstart a public debate about housing rights and encourage the state to fulfill its obligations to this end.
"Real Estate or Rights: Housing Rights and Government Policy in Israel" addresses areas of inadequate housing policy that affect the public most adversely including: reduced assistance to apartment buyers, privatization of the mortgage market, cutbacks in rental assistance for disadvantaged populations, and the elimination of public housing. Examples of these trends and the harsh ramifications include:
· In most developed countries, laws regulate the rental market; in Israel, the private housing rental market is not regulated at all, making it more and more difficult for Israelis to find adequate housing.
· For several years, Israel has been progressing toward the complete elimination of public housing: As of 2007, only 1,628 apartments remained available, most in peripheral areas, intended to meet the needs of 50,000 eligible applicants.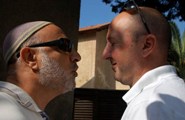 ·
Thousands of Israelis, including children, are evicted each year
from their homes because they are unable to make mortgage payments.
· Government assistance for mortgages that had reached NIS 5,582 million in 2006 fell to NIS 1,961 million in 2007.
· The "gentrification" of neighborhoods, a trend that has become increasingly common in Israeli cities, can lead to the disintegration of communities. Upgrading a neighborhood generally leads to sharp rises in the price of housing, which can chase away the locals, who are among the disadvantaged populations. This process could negatively affect children who have to change schools, and the elderly, for whom separation from their familiar surroundings and support community is like cutting off their oxygen supply.
· In recent years, we have seen government authorities take an active part in violating the housing rights of residents in neighborhoods undergoing development. This derives from a dangerous merging of interests of the powerful and the wealthy.
· Arab citizens are not represented at all in the bodies planning their towns, and hence town plans are insensitive to the needs of the Arab population.

· That being said, in about half of the Arab towns in Israel, no master plans were published for their expansion and no city plans for purposes of issuing construction permits. The absence of a city plan according to which construction permits can be issued inevitably leads to construction without a permit and thence to the demolition of homes.
· Israel has witnessed a disturbing increase in the number of homeless people who live on the streets or in abandoned houses or who have no choice but to crowd into shelters or the homes of acquaintances or relatives. As opposed to many countries in the world, Israel has no policy to prevent people from falling into a situation of homelessness.
To read the English summary of "Real Estate or Rights: Housing Rights and Government Policy in Israel," click here.
To view and download photos for free use in the media, please visit the following Web site: https://law.acri.org.il/camp/housing/eng/page_en1.html . The photos are the property of ActiveStills.org and are available for free use in connection only with ACRI's "Real Estate or Rights" Report, with credit to ActiveStills. To inquire about obtaining rights for further publication, please contact activestills@gmail.com .