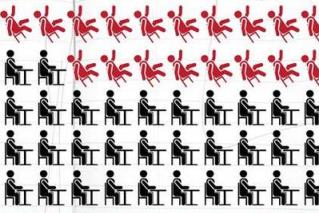 New Report by ACRI and Ir Amim Reveals:  
2,200 Classrooms Still Missing in East Jerusalem:
Only 150 Classrooms Built Over Past Five Years
To read the full report, click here.
• Despite a High Court ruling that the Jerusalem Municipality and Ministry of Education have until 2016 to rectify the shortage of missing classrooms, only 150 classrooms have been built over the past five years.
• The new report reveals that despite an overall 13% dropout rate, there are no dropout prevention programs in one third of Arab secondary schools in Jerusalem.
• Grave discrimination in allocation of professional school staff persists: roughly 250 school counselors work in West Jerusalem as compared to only 29 in East Jerusalem.
With the start of the new school year, today (2.9.2013) The Association for Civil Rights in Israel (ACRI) and Ir Amim published an annual update on the dire state of education in East Jerusalem, revealing deep gaps between the two parts of the city. The report concludes that the Jerusalem Municipality and state authorities are failing to meet a High Court ruling that ordered the completion of all missing classrooms in East Jerusalem by 2016. Faced with a shortage of 2,200 missing classrooms in the official Arab school system in Jerusalem, the authorities are doing too little to close this intolerable gap.
The report reveals that despite Jerusalem Mayor Nir Barkat's public statements, according to which under his leadership the Municipality has invested significantly more than previous administrations in improving the educational system in East Jerusalem, the pace of building new classrooms has remained slow. During the current term of the mayor and city council, from 2009 onwards, only 150 new classrooms were built in East Jerusalem and 332 additional classrooms are in various stages of planning. While the authorities maintain that a lack of suitable vacant lands in East Jerusalem is the main hurdle for the construction of new schools for Palestinian children, they are continuously advancing new building plans for Israeli purposes on the scarce available land remaining in East Jerusalem.
The total Palestinian dropout rate in Jerusalem, across all ages is 13%; in comparison, notes the report, "in 2011, the dropout rate in Hebrew secondary schools nationwide was 2.6%; in Arab secondary schools nationwide it was 4.6%; and in West Jerusalem, only 1%." Dropout occurs mainly during secondary: In the 2012-2013 school year 10% of Arab children in 8th and 9th grade were not enrolled in any educational institution. For 10th grade, this figure doubled to 20% and by 11th grade, 30% of the students did not attend school. The report concludes: "The result is that 36% of children in East Jerusalem fail to complete a full 12 years of school."
According to figures compiled by the Jerusalem Education Administration (MANHI), in 30% of the high schools in East Jerusalem MANHI does not operate any dropout prevention program and in 44% it runs only one program.
While 225 students in Jerusalem's Hebrew education benefited from a national dropout prevention program in 2012, there were only 100 beneficiaries in East Jerusalem. Meanwhile, Palestinian students comprise 56% of the student body that MANHI oversees (the remaining 44% study in Jewish secular schools and Jewish national-religious schools).
Another chapter in the report describes the tremendous disparities in the allocation of professional personnel positions between the educational systems in West and East Jerusalem. Only five inspectors are employed in the East Jerusalem educational system while in West Jerusalem there are 18 inspectors. The disparities are even greater in the case of school counselors, whose role is critical in providing psychological support and preventing dropout. Only 29 school counselors operate in East Jerusalem compared to some 250 counselors in East Jerusalem, despite the harsh socioeconomic conditions that many Palestinian families face and the dire need for school personnel to support students.
Adv. Oshrat Maimon, Policy Advocacy Director at Ir Amim:
"We're very close to the October municipal elections. It is regrettable that instead of attending to the existing gaps, the candidates for mayor choose to devote their energy and resources to satisfying the demands of the nationalist right in Jerusalem. Life in Jerusalem cannot continue to operate as business as usual: while parents in West Jerusalem are excited about their children's first day in school, a few meters away parents in East Jerusalem don't know if there will even be a place in school for their children. This gap, which continues to increase every year, requires an urgent response from elected officials in both the Municipality and the government. It requires a paradigm shift in priorities and those who adhere to democratic values must see to it that it is done."
Ronit Sela, Director of ACRI's East Jerusalem Project:
"The enormous shortage in classrooms, budgets, personnel and educational programming constitutes a serious violation of the right to education of tens of thousands of Palestinian schoolchildren in Jerusalem. The authorities are well aware that they have failed to meet their obligations and have instead created an education system characterized by poor achievement and high dropout rates. The solutions are well known – but real will and effort is missing."
To read the full report please click on the links below: