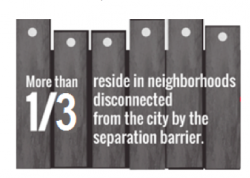 On Jerusalem Day 2017, as Israel marks 50 years to the "reunification of Jerusalem," ACRI presents its Facts and Figures 2017, highlighting the continuous neglect, oppression, and poverty in East Jerusalem.
Below are some of ACRI's findings from the report, which paint a concerning picture of the human rights situation in East Jerusalem:
According to the Central Bureau of Statistics, 323,700 Palestinian residents live in Jerusalem, constituting 37% of the total population of the city. Some estimates suggest that the number of Palestinian residents is actually higher.
76% of the residents of East Jerusalem and 83.4% of the children live below the poverty line, according to the poverty report of the National Insurance Institute. The poverty rate average in Israel is 21.7%, and 30% among children.
There is a shortage of around 2,000 classrooms in the official public education system in East Jerusalem, according to the Municipality's estimate. The cost of constructing these classrooms is two billion shekels.
The number of residents of East Jerusalem who appear in the records of HaGihon Water and Sewage Corporation is 192,281. Accordingly, only 59% of the residents of East Jerusalem are connected legally and properly to the water grid.
To read the full report, click here
To access an infographic with more facts, click here